Microsoft Edge Tutorial
These Microsoft Edge tutorial articles are designed to get you started quickly and easily. Working with Microsoft Edge is remarkably easy once you understand a few basic techniques. In these articles I'll be giving an introduction on many different popular topics as well as more in-depth insights on working with important Microsoft Edge features, pretty much in the same fashion as with my other computer tips and tricks articles. 
You'll find step-by-step instructions on organizing your work with Microsoft Edge with screenshots included, I'll also talk about the new features and I'll reveal a few great tips and tricks that most people don't know.
Microsoft Edge Tutorial Ebook
While my Microsoft Edge tutorial articles are completely free - I promise - I recently also added the possibility to purchase them all bundled together in one handy downloadable ebook. It is somehow the Microsoft Edge tutorial for dummies ebook version that you can download and read offline.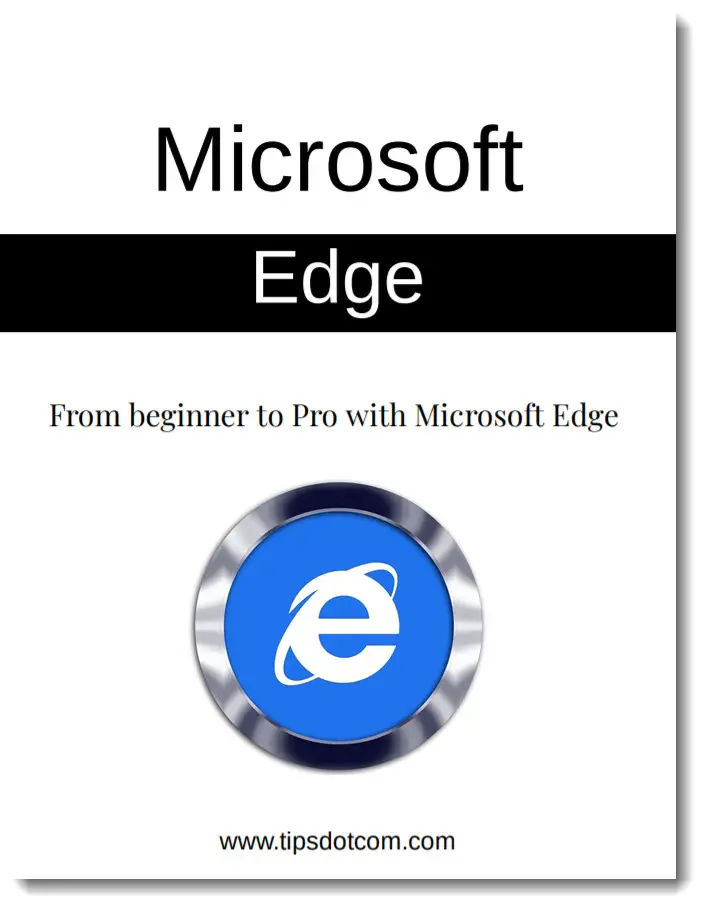 For the price of only US$ 7.95 you can download your own copy of my "From Beginner to Pro With Microsoft Edge" ebook if you prefer, so please feel free to check it out if you're interested.
If you rather prefer to read my free online articles on this website, scroll down a bit and you'll find the free articles right there.
---
The Microsoft Edge Tutorial Articles

Below you'll find a list of links to my Microsoft Edge tutorial articles, each with a brief introduction about the topics and features covered. I'll keep adding more articles over time, so please feel free to sign up for my free newsletter to get notified when new tutorials are published. Click the links in the list below to go to the individual articles. They all contain a link back here at the end of each Microsoft Edge tutorial so you can easily look up the other tutorials as well.
---
This article is a good start if you want to learn your way around in Microsoft Edge.

---
Creating a Microsoft Edge desktop shortcut
In Windows 10, there's no Microsoft Edge desktop shortcut by default. In this article I'll show you how to easily create a desktop shortcut to open with the start page, but also how to create a shortcut that will open with the specific page that you're viewing at that instant.
---
In this Microsoft Edge tutorial you'll find out how easy it is to set a specific start page. Many people prefer to start with Google search as their start page, so they can type their search queries right away.
---
Searching with Google in Microsoft Edge
By default, Microsoft Edge search actions are performed with Bing. Read here how to set Google as default search provider in Microsoft Edge.
---
Help us Make Search Better for you
You may have seen the message "Help us make search better for you" when you start Microsoft Edge. What does this actually mean and will it indeed make search better for you? In this Microsoft Edge tutorial we'll investigate whether or not this is a feature that you can afford to miss.

---
Pin Microsoft Edge to your taskbar
Prefer to have a Microsoft Edge shortcut on your taskbar? This article will show you exactly how it's done.
---
Microsoft Edge favorites are super easy to use and they can save you enormous amounts of time when trying to find certain web pages back later on. Read more and find out how to get organized with favorites.

---
Microsoft Edge quick links are another way of quickly finding your most frequently used places on the web. Edge automatically populates the quick links for you, but you can customize them according to your preferences. Did you know that you can display more than one row of quick links?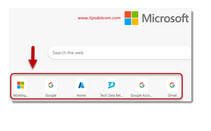 ---
---
Getting the most out of Microsoft Edge history
Found some great website a couple of days ago and you can't figure out how to find it back? Microsoft Edge remembers the sites you've visited so you can find them back!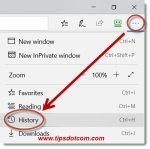 ---
Leaving No Traces In Microsoft Edge History: Microsoft Edge Incognito Mode
In this Microsoft Edge tutorial: Microsoft Edge incognito or InPrivate mode allows you to surf the internet without leaving cookies, form data and browsing history on your computer. And it may even save you money!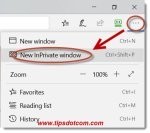 ---
Set Microsoft Edge to remember your passwords
Flipping the switch to "on" in this option makes Microsoft Edge remember your passwords so you don't have to. Is this safe or are there better options?
---
View your saved passwords in Microsoft Edge
Not entirely sure anymore what the password behind the bullets was again? With these steps you can reveal your stored passwords in Microsoft Edge.
---
Will LastPass Work With Microsoft Edge?
In this Microsoft Edge tutorial I explain how to use the LastPass Microsoft Edge extension so that you can save all of your passwords in a vault with one master password. LastPass will then automatically auto-fill your account passwords for all your logins. It will automatically detect which login password is needed and automatically fill it in for you.

---
Password Monitor Securely Checks Your Saved Passwords
Here I take a closer look at Microsoft Edge's built-in password manager and how it can make life easier for you. I also explain how Edge helps you to avoid passwords that are known to be compromised in password leak databases. Not sure what such a database is? Discover all about it in this article.


---
Clear browsing history, stored passwords and cached data In Microsoft Edge
Clearing your Microsoft Edge cache can remedy many problems if you find that Edge won't function properly. Not only that, it can also keep you out of trouble with all kinds of privacy concerns and security issues. After reading this tutorial you'll know all about clearing the cache and why it is important.
---
Importing Your Internet Explorer Favorites To Microsoft Edge
Updated your computer to Windows 10 and missing your Internet Explorer favorites? With this Microsoft Edge tutorial you'll learn how to easily import your favorites in Edge and how you can use Internet Explorer and Microsoft Edge concurrently on your computer.
---
Not to be confused with the "dark web" or Windows 10 night light, Microsoft Edge dark mode can be a start to improve comfort when working in low ambient light environments.

---
Microsoft Edge Alt Tab Settings
Ever noticed that all open Edge tabs show up when you press alt + tab? If you want to stop all Edge tabs from showing in this list, you can change the alt tab switcher in the settings in Windows 10.

---
Microsoft Edge Background Image
Changing the Microsoft Edge background image is one of the easiest things you can do to customize Edge on your computer so that it better fits your personal preferences and just plain simply looks nicer. In this Microsoft Edge tutorial article we take a closer look at the possibilities and I also show how to get the amazing photo's from the Microsoft daily images gallery on your screen.

---
New Options For Copying URLs in Microsoft Edge Settings
Got a message that there are new options for copying URLs in Edge? Means that your Edge browser has catched up with this new feature for more readable URLs. Find out what is going on here.

Microsoft Edge On Windows 10
If you're working with Windows 10, you'll probably have noticed that Internet Explorer is somewhat harder to find on your computer than it used to be and that Internet links now open by default with Microsoft Edge. Microsoft Edge is Microsoft's new browser, which was released with the arrival of Windows 10 and is designed to be clean, tight and more responsive than its predecessor Internet Explorer.
For that reason, Microsoft Edge comes with less of the power-features that Internet Explorer users have long been accustomed to. Edge was originally introduced without support for extensions or plug-ins, nor the possibility to synchronize your Microsoft Edge favorites or browsing history with your mobile device. Microsoft had planned these extra features for later.
Does this make Microsoft Edge an inferior browser? Not necessarily. (Please take note: The following thoughts and ideas are only my personal opinions and should not be taken as gospel.)
Yes, you'll find people who don't like Edge and who are annoyed by the fact that it only supports Windows platforms and thus won't run on their other devices. And yes, you'll also find people who complain about other weaknesses in Microsoft Edge. In fact, with any new technology, you'll always see that people go through an adaptation phase before it gets accepted. When Microsoft introduced Windows 10, people were complaining all around about all sorts of annoyances that they didn't have with their good old trusted previous version of Windows but in fact, at the time when THAT previous version of Windows was released, there were just as many complaints.
That, and the fact that Microsoft continually works to improve their Edge browser to reduce user-concerns and optimize usability and performance make it very likely that Microsoft Edge will eventually become a widely-accepted browser, catering for the browsing needs of the modern internet user.
You may also like: Download Mozilla Firefox free internet browser.

---
If you've enjoyed this article or found it useful, I'd appreciate it if you'd let me know by clicking the Like (or Share) button below. Thank you!

---