Trending: Google Photos Unlimited Storage
Do you already have Google Photos unlimited storage? People are going on about this amazing service that will help you save your photos without getting billed every month. And without storage limitations. It works right inside your Google account and it won't cost you one. single. penny.

When you want to use cloud storage for your photos or even if you don't want to use cloud storage for your photos because you don't know you need it yet, Google Photos is the way to go.

Heck, even iphone and Mac users are switching to Google Photos now because, let's face it, paying monthly icloud invoices for something that's available for free elsewhere doesn't make a lot of sense, does it?

There is one caveat though and that is that you need to "cap" the quality of your photos at 16 megapixels (and videos at 1080p resolution). Now at the smartphone camera quality rates that will probably not even affect your pictures and there are good reasons to assume that Google might even increase these "High quality" settings accordingly in the future.

There is understandably a ton of confusion that exists around the "High quality" setting that you need to enable in order to get unlimited storage so, let's figure that out shall we?

How to Get Google Photos Unlimited Storage (Free)

You may even already have access to free Google Photos unlimited storage without knowing it. If you have a Google account, you have access to unlimited cloud storage for your photos and videos. Not sure if you have a Google account? If you have a Gmail account, you automatically also have a Google account. (and if not, you can find out how to create a free Gmail account here).

In order to start using your Google Photos unlimited storage, let's first take a look at where to find Google Photos. To do so, sign in to your Gmail account (you can use the link to go to Google's sign in page).

Then, from within your Gmail account, look for the square with nine dots near the top right corner of your screen (the one that says "Google apps" when you hover over it with your mouse).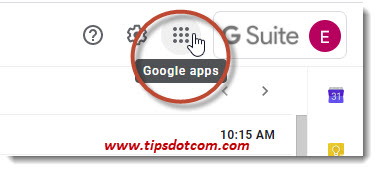 ---
Click the Google apps square and look for "Photos" in the list of Google apps (you might have to scroll down in the list to find it). Click the Photos app.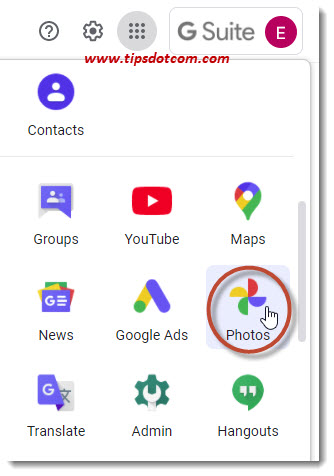 ---
A Google Photos window will now open with a menu like this on the left hand side.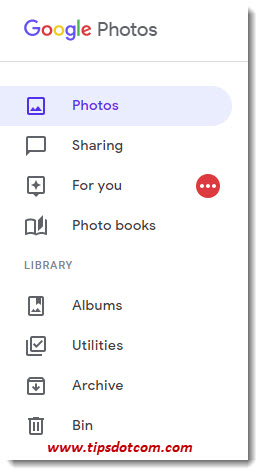 ---
There might even already be some photos in here as well (for instance when you also use your Google account on your smartphone).

You can upload photos from your computer simply by dragging them into this Google Photos screen (when you do that, you will also see a notification about "Desktop uploader" for more efficiency when uploading photos from your computer, but that's material for another article).

The trick for getting Google Photos unlimited storage free however, is to change your default quality settings in the Google Photos app. Let's take a look at that.

Click the settings gear icon near the top right corner of your Google Photos window.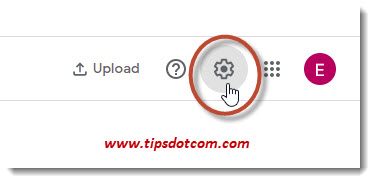 ---
You will now see the Google Photos settings screen, where you will find the "Upload size for photos and videos".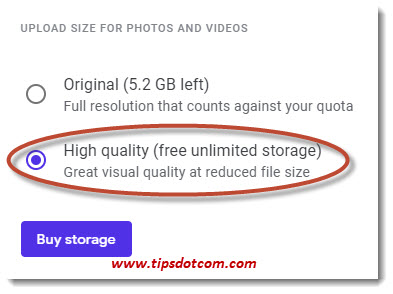 ---
By default, this setting is set to "Original", which means that your photos and videos will be uploaded in full quality. If you leave the setting like that, it will count against your storage quota. Your storage quota is shared between the services in your Google account (Gmail emails and attachments, Google Drive storage, Google Photos, …).

That means that you can run out of space and get "Drive storage is full" messages if you deplete the 15GB that are included in your free Google account.

However, if you switch your setting to "High quality (free unlimited storage" in Google Photos, your photos will now no longer count against your quota.

It says "Great visual quality at reduced file size". What that means is that photos will be compressed to 16 megapixels and videos to 1080p.
And you know what: the 16 MP onlyness of it isn't even that big of a problem.

Because it means that with most modern smartphones your images won't even be reduced in quality. For instance an iPhone-X has a 12 MP camera, so no quality loss there (for videos that might be a slightly different story if you are filming in the highest quality settings so make sure to check that).

You can also benefit from free Google Photos unlimited storage on your smartphone if you install the Google Photos app on your smartphone. You can set up the app so that it will clear up storage on your device by moving your photos to Google Photos cloud storage.

With this I hope to have given you an introduction to the benefits of having unlimited storage for free available with the Google Photos app. There's a lot to explore in the app so I would suggest experimenting with it a little bit. One last quick tip: try using the search function in the app. Being an app from Google we might already assume that the search functionality will be quite good. Google Photos can recognize certain "things" in your pictures, which can be pretty helpful if you're searching for anything specific. If you have photos of your cat or dog, try searching for "cat" (or "dog") and see what comes up!

---
If you've enjoyed this article or found it useful, I'd appreciate it if you'd let me know by clicking the Like (or Share) button below. Thank you!

---