Get a Free Zoho Email Account

Never heard of a Zoho email account? Please read on then, because there are quite a few reasons why you should find out about this new mail service.
Nowadays everybody knows about free Gmail accounts (also check my article on getting your own Gmail account), but do you remember the time when you first heard about Gmail? When Google introduced their free email service, it came with such an impressive bunch of features and benefits that its popularity skyrocketed in no time.

Today a new player in the free email playing field is gaining popularity fast and it's one to watch closely. Why? Because there are a few things that you can do with it that you can't with your Gmail account. Plus, a little extra competition in the field is good because you will get more benefits if more email service providers are trying to make their users happy.

So Why Should You Get a Free Zoho Email Account?

Zoho offers a number of paid plans as well, but their free email solution is a reliable, solid service that supports their vision of fluent customer acquisition. Their philosophy is that entrepreneurs who start on a free plan are happy to upgrade to higher plans when they grow. And Zoho believes in the goodwill developed in the process. They say that entrepreneurs who grow to the point when they can afford a higher plan are more likely to choose those who supported them in the beginning.

Some people also say that they try harder when it comes to delivering great service, because they are challenging the competitors ahead of them.

Google has stopped offering free Google Apps accounts, so you can no longer use your Gmail account with your own domain ([email protected]) unless you pay for an account.
That is, for instance, one of the things that you can do with a free Zoho email account.
A few other benefits that you will get with a free Zoho mail account:
A clean, fast web interface with all the features of a modern-age email service
No ads displayed
Virus and spam protection 
System backed by state-of-the-art servers and software
Works with your iPhone, Android and other mobile devices
Dropbox integration
Online document, spreadsheet and presentation tools
No worries about storage (5GB free and expandable)
Works with your own domain
It's Free
Getting Started With Zoho Email

Head over to https://mail.zoho.com/biz/createAcc.do

There you will get a screen where you have to enter your personal information (Lastname, firstname, the Zoho email address, a contact email address that you would like to use and a password) for your new Zoho mail account.

After you have provided all the necessary information, click the signup button to proceed.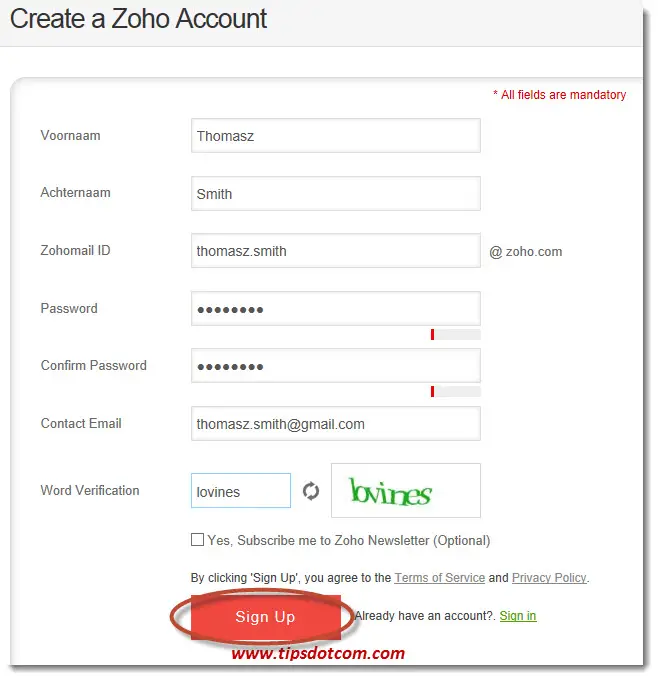 ---
Then, check the contact email address that you've entered during signup, look for the signup confirmation mail and click the confirmation link in order to activate your account and make it ready for use. This needs to be done within 30 days after you've signed up.

Once logged in to your new Zoho mail account, you will find a screen like the one below, offering a complete overview of your new mail account.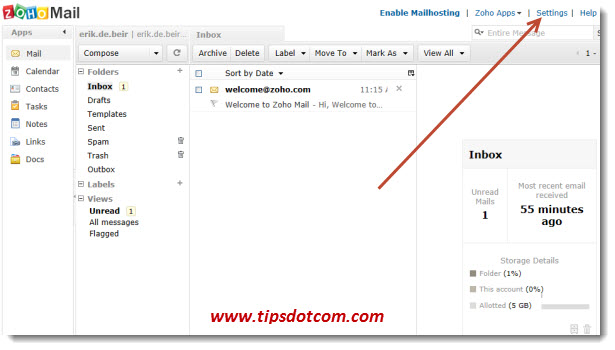 ---
You can click the settings link to go to the settings page, where you will immediately get an overview of all the extra features that you can configure with your Zoho mail account, such as signatures, vacation autoresponders, fonts and colors and so on.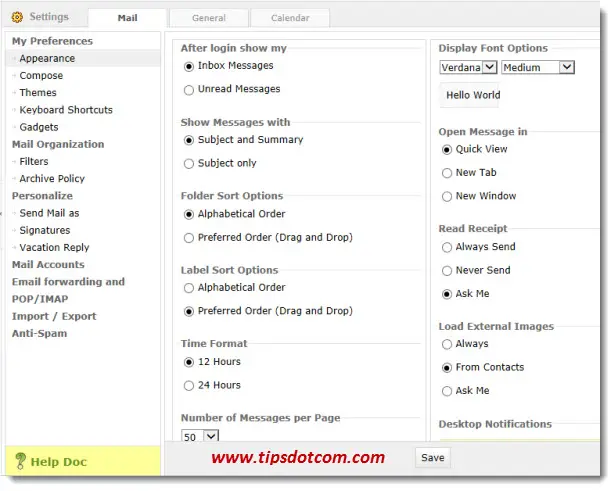 One of the nice things that you can do with Zoho mail is use it with your own domain name. Google Apps with Gmail stopped offering this possibility with its free accounts a good wile ago, so this is certainly one of the features that makes Zoho mail interesting.

Much the same as with Gmail, you can also work with labels and create filters in order to keep your inbox organized. The web interface looks pretty clean and allows you to manage your mailbox from different devices, but if you prefer to work with an email client software such as Microsoft Outlook or Mozilla Thunderbird, you will find the pop and imap settings in the "settings" screen.

Certainly also take a look in the help function if you want to start using your new mail account on your mobile device.

---
If you've enjoyed this article or found it useful, I'd appreciate it if you'd let me know by clicking the Like (or Share) button below. Thank you!

---