Microsoft Edge alt tab Settings
You can now find Microsoft Edge alt tab settings under the "Multitasking" section in your Windows 10 settings. This is new since the Windows 10 20H2 update and you may have already noticed it in the behaviour when you press alt + tab to cycle through open programs on your computer.
If you have multiple tabs open in Microsoft Edge (and who doesn't have that?), you may find that pressing alt + tab shows waaayyyy more open windows then you'd expect. That's because the default behaviour now is to display open windows and the 5 most recent tabs in Edge.

Yikes.

Not only can this lead to an overcrowded view of open windows when alt + tabbing, but also does it seem way more easy to just switch to Edge and then click on your desired tab. Especially if you have many tabs open.

Microsoft has introduced this new functionality since Windows 10, version 20H2 (I have written a separate article that explains how easy it is to figure out which Windows 10 version you have). In 20H2, Microsoft Edge is more tightly integrated into Windows 10, which is why the Microsoft Edge alt tab settings are placed in Windows 10 settings rather than Edge's own settings screen.

Luckily Microsoft has also left the option to disable Microsoft Edge alt tab settings.

How to Disable Microsoft Edge ALT TAB Settings

To disable Microsoft Edge alt tab windows, click the Windows 10 start button and click settings. Then click "System", "Multitasking" and go to ALT + TAB. Now select "Open windows only" and you're done.

Let's go over this once again with a little more detail.

Click the Windows start button and select settings.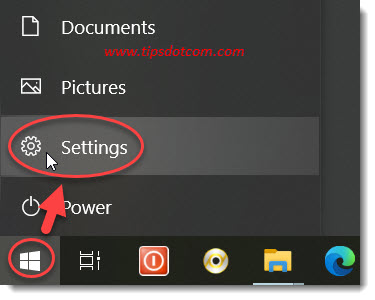 ---
Then, in the Windows 10 settings screen on the left, select "Multitasking" and then look at the "ALT + TAB" section on the right, where it says "Pressing Alt + Tab shows". Select "Open windows only" from the dropdown list to stop individual Edge tabs from appearing when you press alt + tab.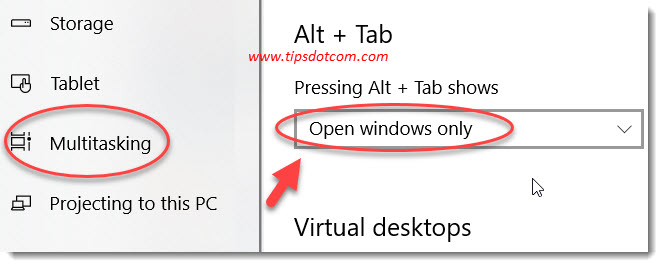 ---
Other options you can select are "Open windows and all tabs in Edge", "Open windows and 5 most recent tabs in Edge", "Open windows and 3 most recent tabs in Edge".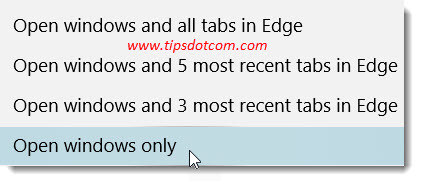 ---
Can You Change ALT TAB Settings?

You can change alt tab settings in Windows 10 via settings - multitasking under the "Alt + Tab" section, but there's also a section called Virtual desktops, which lets you define whether you want to show open windows from all virtual desktops or only the desktop you're using.

The Microsoft Edge Alt+Tab Bug

There are several discussion forum threads where you can read about a Microsoft Edge Alt + Tab bug, which is what people sometimes experience after upgrading to Windows 10 version 20H2. Always make sure that you're using the most recent version of Microsoft Edge if alt tab doesn't work correctly.

In another article, I have written how you can easily find out exactly what version of Microsoft Edge you have so please feel free to check it out if you want to learn more.

---
If you've enjoyed this article or found it useful, I'd appreciate it if you'd let me know by clicking the Like (or Share) button below. Thank you!

---