Google Chrome Tutorial Overview
On this Google Chrome tutorial page you'll get an overview of all the articles that I have written on the subject of Google Chrome and how to get a more complete experience with this web browser. Whether you're new to Google Chrome and just starting out or you are a more experienced user looking to expand your knowledge, I'm sure you'll find some pretty valuable tips and advice in these articles.
Why you would want to use the Google Chrome browser if you have Microsoft Edge as the default internet browser on your computer? Well, for all you know, you might just fall in love with this blazingly fast, kick in the ***profanity auto-removed*** web browser that miraculously transforms your pc into a contemporary, knock-your-socks-off high-tech sophisticated vision of awesomeness.
Could of course also be that you're just interested in learning something new. Hence my Google Chrome tutorial articles.
Just so you know, you can explore Google Chrome while you have other browsers on your computer. Google Chrome will live happily together on your system next to Mozilla Firefox and Microsoft Internet Explorer. If you are running Windows 10, you'll also have the new Microsoft Edge browser on your computer as well. All these browsers work well together.
If you don't have Google Chrome on your computer, you can start off with my Google Chrome tutorial that deals with downloading and installing Google Chrome. And if you're not exactly sure why you can have several browsers (Firefox, Edge, Chrome etc) to basically do the same job, you'll also find a few basic concepts explained in that same article.
I'll be adding new articles and updates in this series of tips and tricks, so make sure to check back regularly for new material. Of course you can also go to my homepage and subscribe for my newsletter to get notified of any new additions. That way you'll always know first about new tech articles and tutorials. My newsletter is still free so you'll get any updates free of charge.
To get started with my Google Chrome tutorial articles, just take a look at the section below where I've grouped them together. Simply click on the link to go to any specific article. Each of the articles contains a link back here so you can come back to this overview anytime.

Google Chrome Tutorial Articles
How to download and install Google Chrome. In this first Google Chrome tutorial I'll start by explaining step by step how to download and install Google Chrome on your computer. As always, screenshots are included to make everything absolutely clear and easy to follow.
Set Google Chrome as default. Once you have installed Google Chrome on your system and you have worked a while with it, you may decide to make it your default browser. In this article I show you how to easily set Chrome as your default internet browser.
Create a Google Chrome desktop icon. Many people get confused if a Google Chrome icon is missing on their desktop (or start menu). Read here how easy it is to create your Chrome icon, add it to your start menu and taskbar and create shortcut icons that take you directly to a specific web page.
Working with Google Chrome favorites. Boost your internet sessions and save time with Google Chrome bookmarks or favorites. Also discover how to keep your stuff synchronized between devices.

Clear internet history in Google Chrome. Most other browsers have an option to automatically wipe your internet history (the sites you have visited) when you close them. Google Chrome doesn't (not anymore, that is). The reason why that is and also how you can still configure your Google Chrome so that it does delete your internet history when you close your browser is covered in this article. No privacy issues anymore after reading this Google Chrome tutorial.
Google Chrome Incognito Mode. If wiping your internet history is something of interest to you, you might also be interested in Chrome's incognito mode. In this Google Chrome tutorial I explain that, even though the feature doesn't provide 100% complete invisibility on all levels, it can vastly improve your privacy issues on the computer.

How to reset Google Chrome. In some rare cases, after you've worked a while with Google Chrome, it could happen that something's not working as expected anymore. (This tends to happen from time to time with any popular browser for that matter). Performing a Google Chrome reset usually gets you out of the woods quickly in case of problems. This Google Chrome tutorial is all about the Google Chrome reset option.
How to install Google Chrome. Another take on the installation process of Google Chrome, along with a few characteristics of the program and a couple of advantages and disadvantages in comparison with other browsers.

Uninstall Google Chrome. Sometimes a reset is not sufficient to resolve issues with Google Chrome. Before running to an expensive computer repair service store, see how easy it is to uninstall Chrome and start over again with a fresh installation. This procedure is less "dangerous" than it may sounds, you won't break anything on your computer and there's no risk involved. Especially with the step by step guide and screenshots in this article.
Google Recommends Using Chrome. If you are seeing this message, chances are that you are searching on Google with Microsoft Edge. Google detects this and wants you to switch to Chrome. In this Google Chrome tutorial we'll take a closer look at this.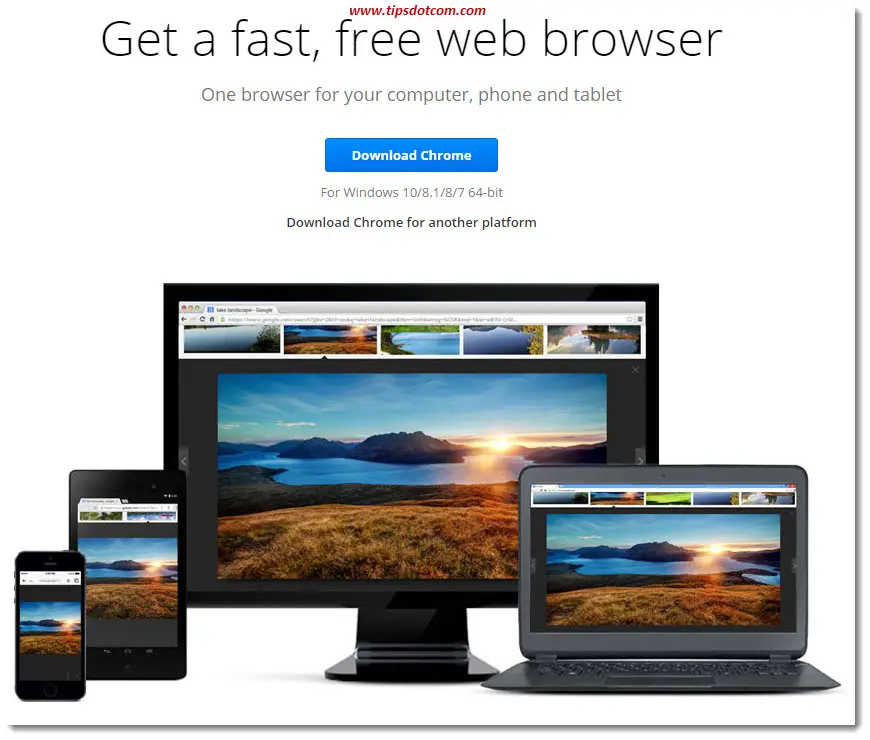 ---
Some Closing Words On Different Browsers
If you're still wondering why anybody would bother complicating life by installing and using several different browsers on their computer while they basically all carry out the same job, allow me to conclude with this.
Today's web pages are becoming increasingly more complex than they used to be. I mean, I can pick up my mobile phone, click on the microphone symbol, and say "Will it rain tomorrow?" And Google will tell me. That's Space Odyssey stuff!
Developers of highly automated web pages that offer a lot of visitor friendly features have to carefully code with compatibility in mind for the different types of browsers that people use. Whether people come and visit their web pages with a Mac using a Safari browser or a Microsoft machines with Edge, the user-experience should be as smooth and pleasant as possible or they lose visitors (read: customers).
With several different web browsers all competing for their market share it has become increasingly more difficult to test, foresee and prevent every possible problematic scenario when coding web pages that are loaded with features and functionality. Let alone the browser extensions that are available in an ever-growing number.
Personally I have found that certain websites perform better in Google Chrome, while others load faster in Firefox, yet others are better with Internet Explorer and so on. On top of that is the fact that you will get certain features only if you visit a page with a certain browser. For instance, if you're using Gmail or Google Drive you'll get more functionality when using Google Chrome than is the case with other browsers. Dragging and dropping an email attachment from an open e-mail message to your desktop is one such feature that is not supported with other browsers than Chrome.
With my Google Chrome tutorial articles I aim to help people to download and install Google Chrome and explore the possibilities of another browser.

---
If you've enjoyed this article or found it useful, I'd appreciate it if you'd let me know by clicking the Like (or Share) button below. Thank you!

---