Google Chrome Incognito

Today where going to look into Google Chrome Incognito, not to be confused with MI5 and secret service incognito ... or should it ... but more a fast and secure way to have some user privacy while using Google Chrome by turning on Incognito mode.
Some people have mixed reviews about Incognito mode, but I personally think its negative reviews are derived from basing the purpose of incognito mode inappropriately, if you take into account its designed purpose and strengths it is a good addition to google chrome and does as its creators intended, but we will get into that more later.

Throughout the article below, we will look at the process to turn on incognito mode and deactivate incognito, along with the advantages and disadvantages of Chrome Incognito mode and a quick look at some popular uses.

Google Chrome Incognito - How Secure Is It?

As Incognito is a privacy and security focused feature I thought we are best to start at the big question first "How secure is Google Chrome Incognito?" Surprisingly it is not the securest option available for masking your online identity and browsing without trace but it isn't intended to totally hide your online presence. It's rather designed to stop cookies being cached and online history is deleted upon closing Incognito, so you can browse securely and privately but not totally anonymously.
Tip: if you're interested in learning how to delete your internet history when closing Google Chrome, feel free to read my article "deleting Chrome history on exit".

The downside to this is your Internet provider, employer and the websites you visit know what you have done while in incognito mode. To avoid any misrepresentation Google Chrome does warn us about this when we open Incognito mode.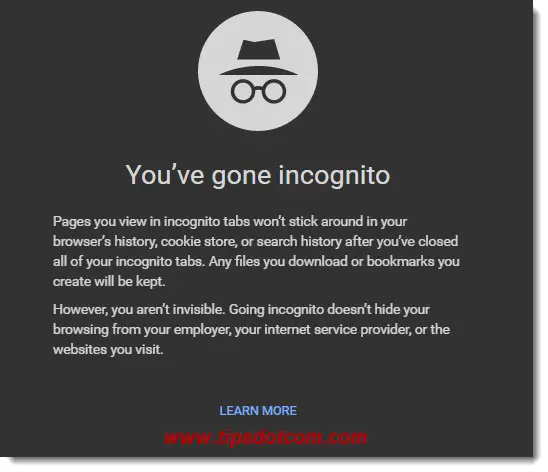 ---
It is only your local PC and other websites like the main social media sites and any Ad based product suggestion sites like the majority of major online super sites that will not be able to use what you have done in incognito mode by checking the history and cookies. In itself, this does serve a valid purpose but if you want total privacy, it is not the feature for you.

There are other options available for totally masking your online identity but their intended uses are very different to what Incognito was designed for.

How Is It Useful?

With us identifying that Google Chrome Incognito mode is not the securest option available out there, it is worth a mention that it does still has some useful functions and can be quite reliable if used for its intended and designed for purpose.

An advantage to browsing without history and cookies being collected is marketing agencies like the main social media sites and online super sites cannot target you based on your browsing history.

Sites like these use cookies and browsing data to push relevant ads to you which isn't always useful, and can be invasive when you've been looking for a gift or in general want privacy when on the web.

An example for this would be if you were looking to buy a present for a loved one at Christmas browsing in Incognito mode is a great idea! Afterwards when you are browsing for another product or that actual loved one is using the computer they will not see constant ads for their present giving away someone may have been looking for it online ...

Also, Incognito mode disables third party applications and add-ons while browsing so it is great for Online Banking. Add-ons and applications can be compromised and start-capturing data that can be used to harm you later. If you are in incognito mode, those applications cannot capture your information but the intended bank can resolve your identity so you can use the online banking site securely and safely while knowing your information is secure.

How To Turn On Chrome Incognito Mode

Click the Chrome icon from your Start menu, desktop or Start Screen.


---
Once Chrome opens, Click the menu icon in the top right of the browser window, as shown below;


---
In the Menu that opens click New Incognito window.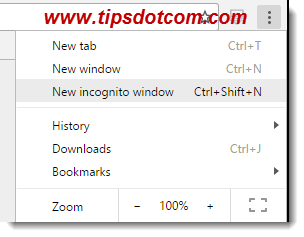 ---
The Incognito window will then open like the one below;

---
Alternatively, there is a faster way to open a Google Chrome Incognito window too ...

Press Ctrl + Shift and N all at once. Then the Incognito window will open on a new page.


---
Quick tip ... You can always tell an Incognito browser window from the small Hat and Glasses icon in the top left when active like the icon below


How To Turn Off Incognito

Navigate to the open Incognito window with the Incognito icon in the top left like the one below


---
Then press the Red X in the top right.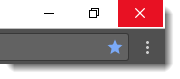 ---
Once the browser window closes, you are no longer in Incognito mode.
Advantages and Disadvantage at a Glance.
Advantages
Incognito is fast to Activate and disable

Browsing data isn't cached at all

Provides private browsing

Disables 3 rd Party Applications and Add-ons

Stops cookies collecting data for marketing
Disadvantages
Doesn't totally mask your online identity

Internet Providers, Employers and the Visited site can still identify you by public IP
Conclusion
While not offering complete online privacy, Google Chrome incognito mode can definitely help you to offer you more privacy when surfing the web, especially when it comes to hiding products or services you've researched from the person that will be using the computer after you.
Please feel free to leave a comment in the section below, I'd appreciate it, thank you!

---
If you've enjoyed this article or found it useful, I'd appreciate it if you'd let me know by clicking the Like (or Share) button below. Thank you!

---