Chrome Delete History On Exit
Where is the Chrome delete history on exit option? If Google were to publish a wish list online where people could submit their wishes for extra features, I'm sure the ability to delete internet history on exit would appear pretty high on that list. 
The reason?

Many people are concerned about their privacy when it comes to using the internet. Especially when you are sharing a computer with family members, you might not like the idea that the person who is using the computer after you gets delivered an entire overview of what you've been up to. Not to mention when you use a computer in a public place like a library or an airport.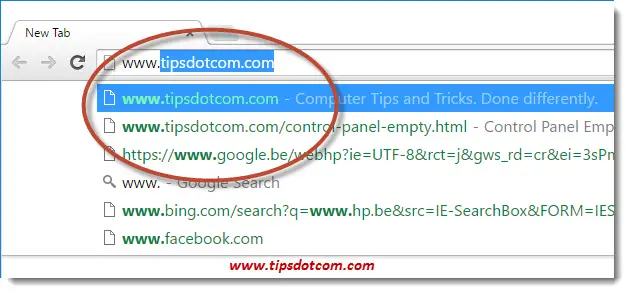 ---
I've seen so many questions of people using Google Chrome asking about the option to automatically clear internet history when closing Chrome, yet Google seems to have good reasons not to include it as a feature.
Chrome Delete History On Exit Not A Feature?
I'll show you in a minute how YOU can work around this and still enable a special Chrome clear history on exit feature but in a typical standard Google Chrome browser, this is not an option.

Indeed, you can search a long time for the Chrome clear history on exit option, it's just not there anymore.

Not Anymore?

That's right. It used to be there in previous versions of the Google Chrome browser. That adds extra confusion for Chrome users. Because you will find older posts on the internet, describing the steps to enable the infamous Chrome delete history on exit feature, based upon versions of Google Chrome that are heavily outdated.

To illustrate my point, I have included a screenshot below of the "Advanced settings" screen of an outdated version of Google Chrome. In this screenshot you'll notice the option to "Clear cookies and other site and plug-in data when I close my browser". I'm not exactly sure, but I believe that this option was discontinued in Google Chrome somewhere around the beginning of 2010.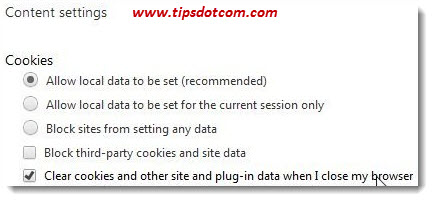 ---
This outdated information adds confusion and frustration amongst Google Chrome users because they don't see this option in THEIR settings. That leads to disgruntled reactions and angry users because they feel that Google is not taking their privacy seriously. Additionally, you'll see remarks of people backing away from Google Chrome and going back to Mozilla Firefox or other browsers.

Indeed, if you check your own Google Chrome advanced settings you'll probably see a screen similar to the image below rather than the settings screenshot above (Unless you're using a very old Google Chrome browser :-)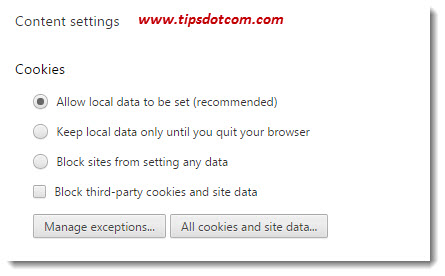 ---
If you're not sure how to get to these settings, click the three horizontal lines in the upper-right corner of your Chrome window.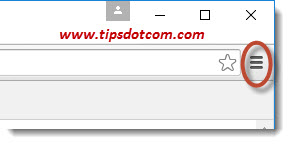 ---
Then select "Settings", then scroll down to the bottom and click "Show advanced settings" and then click the button "Content settings". Then, in the "Content settings window, just underneath "Cookies", you'll find these settings.
So What Now?
Still reading? Ok, I apologize for the long prelude before finally getting to the solution, I just wanted to clarify a bit where all the confusion and frustration is coming from concerning this Google Chrome delete history on exit thing.

The solution can be found in the form of a little Google Chrome extension called "click&clean". (Please also see my previous article on how to clear Chrome history with Click&Clean).

If you don't like the idea of installing an extension as a workaround and you're still mad at Google because there's no built-in functionality in Chrome to clear history on exit, I can't blame you. Fact of the matter is, there isn't. So it's either installing an extension or moving to another browser.

If this fuels your decision to switch to Mozilla Firefox or any other browser for that matter, I certainly am not going to try to convince you otherwise. It's a free world.

However, if you're still determined to use Google Chrome as your main browser, here are the steps to activate the Chrome delete history on exit behavior with the Click&Clean extension.
Click on the three horizontal lines in the upper-right corner to open the menu and select "Settings".

---
In the settings screen, click on "Extensions", scroll all the way down and select "Get more extensions".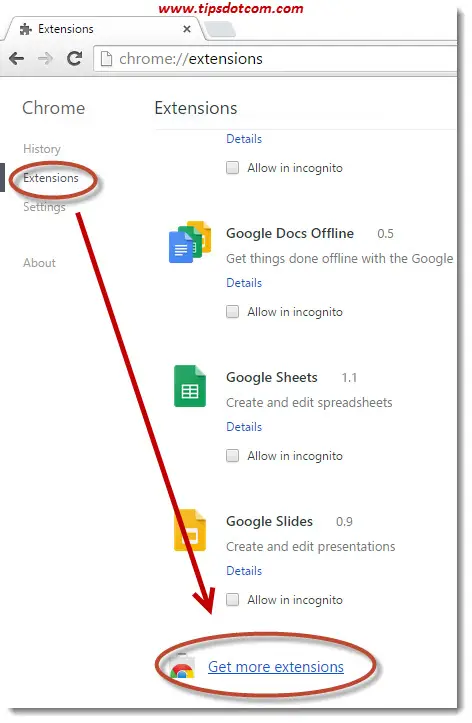 ---
Use the search box in the Chrome web store and type "click&clean" (without the quotes) and press ENTER.

---
The Chrome web store will come up with a number of matches for your search.
Please note: Take a look at the image below. You'll notice that the search result list displays "Apps" and "Extensions" as two separate categories (see the subheadings in the image). Make sure to select the Click&Clean extension, not the app. You'll also recognize this by the description (Deletes typed URLs, Cache, Cookies, your Download and Browsing History).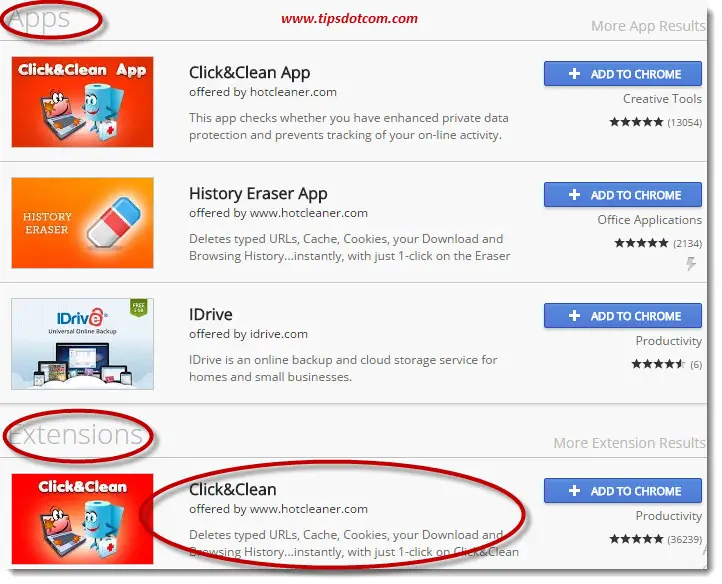 ---
To proceed, click the "Add to Chrome" button next to the Click&Clean extension. In the window that appears, click the button that says "Add extension".

---
As a result, you'll see a notification that the extension has been added to Chrome.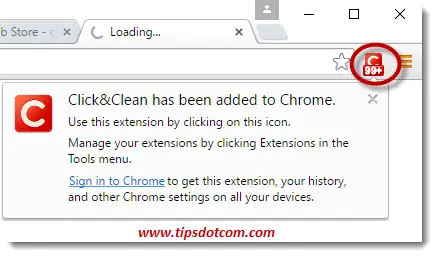 ---
Now click the red Click&Clean icon in the top-right corner of your Chrome window and select "Options".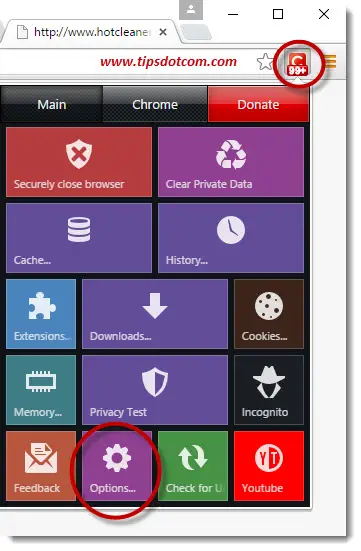 ---
Scroll down in the options screen.
The option "Delete private date when Chrome closes" is the Click&Clean equivalent of the Chrome delete history on exit feature that used to be available in older versions of Google Chrome. And now in newer ones as well :-)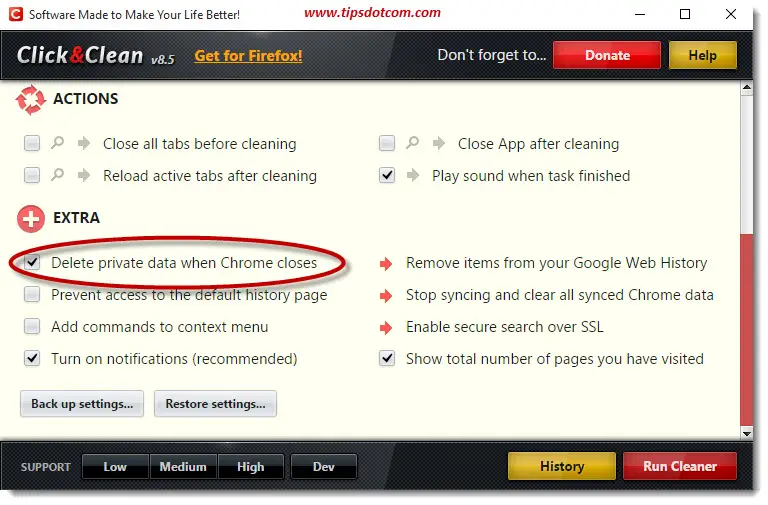 ---
With this article I hope I have cleared up at least some of the confusion that seems to exist around Chrome and its clear history on exit functionality. I hope it served you well.

---
If you've enjoyed this article or found it useful, I'd appreciate it if you'd let me know by clicking the Like (or Share) button below. Thank you!

---