How To Install Google Chrome

In this guide I will cover how to install Google Chrome, along with the benefits that come with Chrome and also an overview of how Google Chrome sizes up against its main competitors. I'll also explain how you can un-install Google Chrome and cover a few topics that explain why Chrome might be a good browser for you.

If I had to write a short summary on Installing Chrome and its features it would probably be something like this. Chrome is a free, easy to install and a customisable browser that holds many advantages over its mainstream competition, which is why it's considered one of the top browsers of choice in today's market.
How To Install Google Chrome

If you're not sure where to download Chrome, please refer to my article about downloading Google Chrome, where, by the way, I also touched on the subject of installation.
For the sake of completeness, I'll go through the steps of how to install Google Chrome again in what follows below.
You can find the Google Chrome setup file at:

https://www.google.com/chrome/browser/desktop/index.html
Click the "Download Chrome" button in the center of the page:

---
On the "Download Chrome for Windows" popup window, click Accept and Install.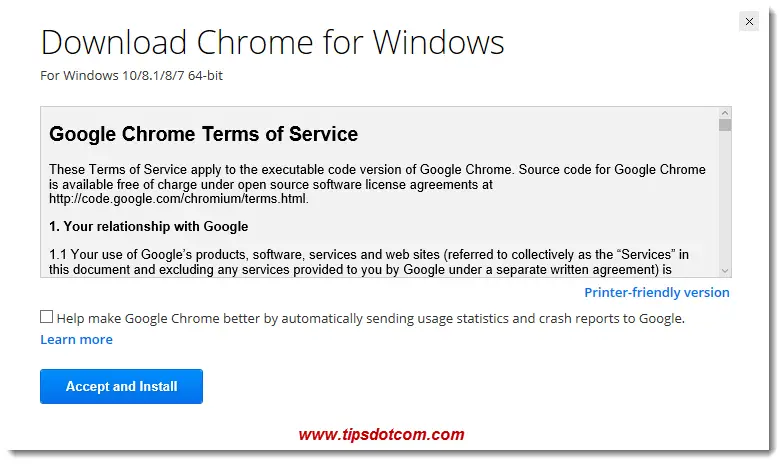 ---
Additional Information: The "Help make Google Chrome better by automatically sending usage statistics and crash reports to Google" is optional. Tick or untick based on your preference, although it is ticketed by default.

A ribbon should appear at the bottom of your screen, click Save. (If you're using Mozilla Firefox to download Google Chrome, the message may appear at the top of your screen.)


---
Once downloaded click the "Open folder" button.


---
The installer will be available and should be called "ChromeSetup" and look something similar to the image below


---
Now double click the installer and the package should open. You will be asked to give permission for the application to run by windows, please click Yes.

Now the application will start to download and you'll see something open like the below example: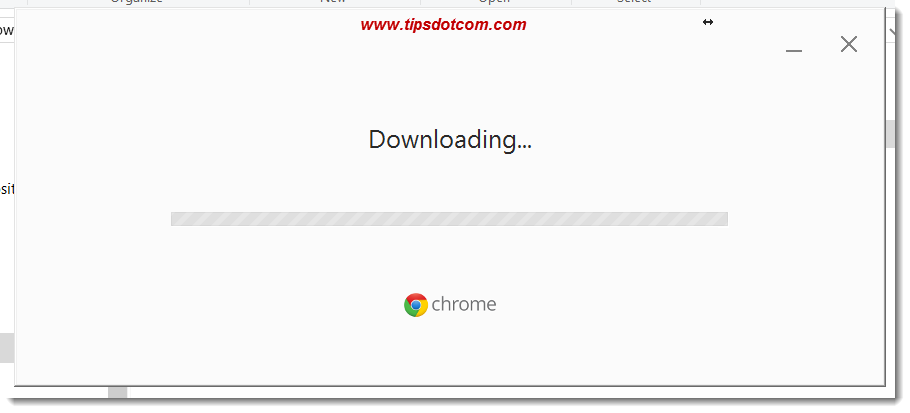 ---
Moving on from this Chrome will then proceed to an "Installing" status where the product is Installed.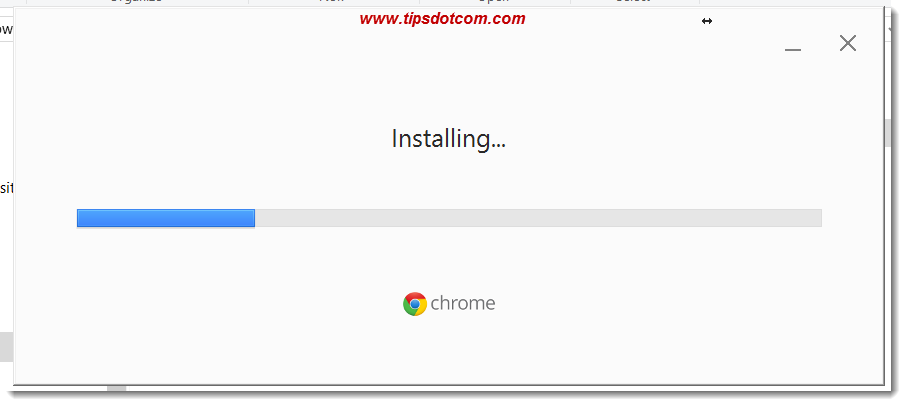 ---
Once complete, Chrome auto opens on the opened default tab there will be options to import settings and sign in with a Google account. This, in a nutshell, is how to install Google Chrome on your Windows computer.

Uninstalling Google Chrome

Now that we've seen how to install Google Chrome, let's take a look at the uninstall process.
Click Start, and type "Control Panel", once the results are fetched please press enter or click on the result "Control Panel"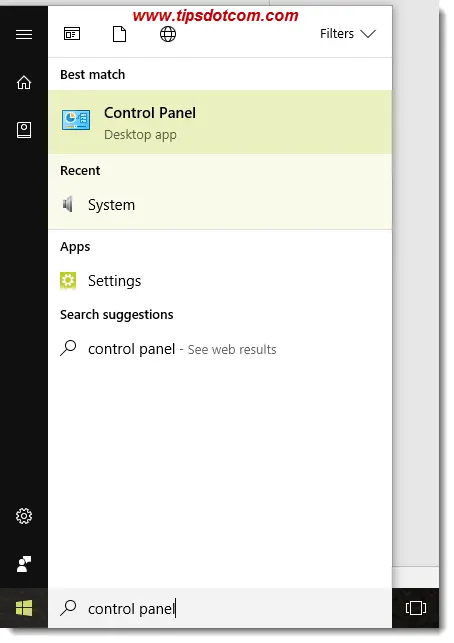 ---
Once the control panel opens, in the top right next to View by: please select Category and then select the "Uninstall a program" option. It should look something like the image below: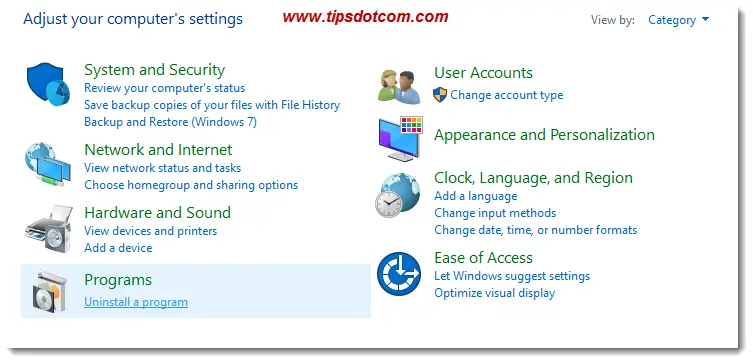 ---
Navigate down the installed programs list and select Google Chrome.

Once selected, click Uninstall at the top.


---
The Uninstall process will then open, like the install process it is very simple and easy to uninstall Google Chrome.

The first screen is the confirmation like the below example.

On the question "Also delete your browsing data?" Generally, this won't impact the uninstall but if you're not planning to reinstall Google Chrome, then ticking the box next to "Also delete your browsing data?" is advisable but not essential.

Once your selection is made about "Deleting your browsing data?" please click Uninstall.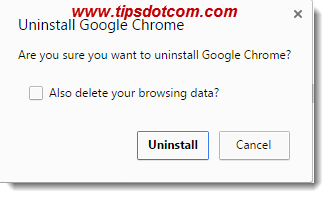 ---
Almost simultaneously, Google Chrome will be uninstalled and you will be redirected to a "Why have you uninstalled Google Chrome" page where you can complete a questionnaire like the one below and press submit (if you'd like).

This Questionnaire is optional and Google just use the collected data to better the browser where they can.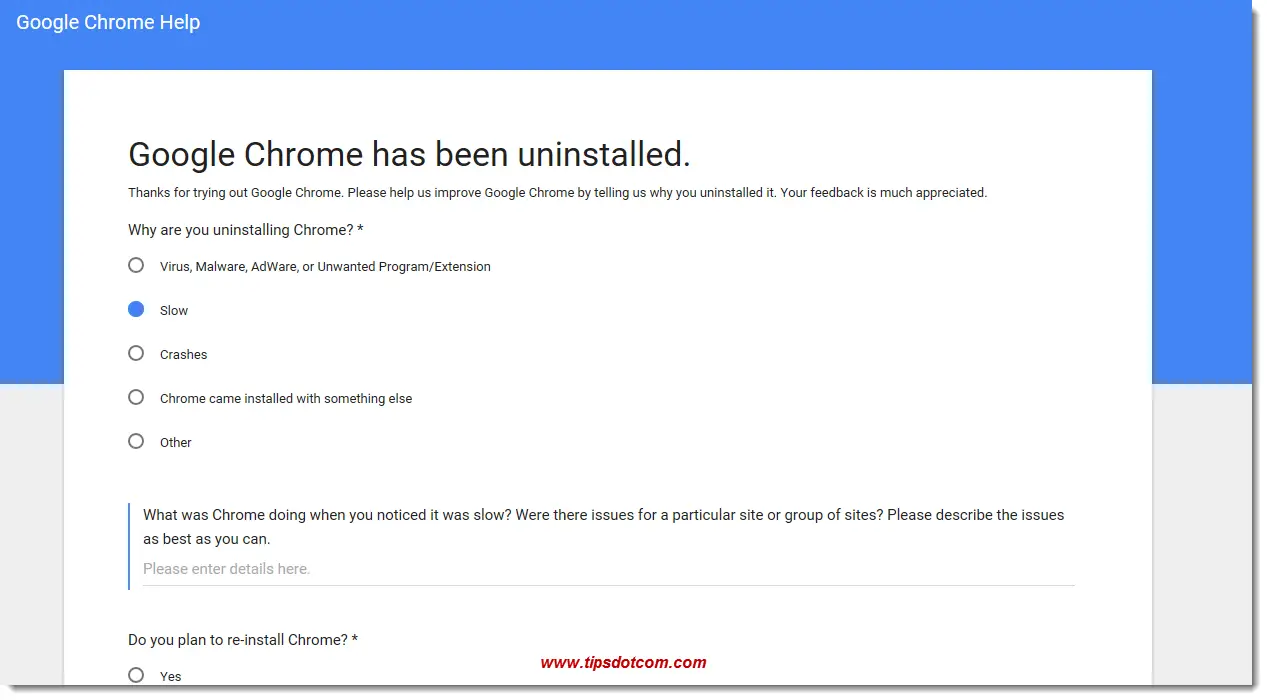 ---
Google Chrome Advantages

Generally, choosing a browser is all down to preference as the advantages or distinctive characteristics between the main providers are few and very slight in their approach. The main features that can decide this preference normally come down to usability, speed and user interaction and I believe these three features are where Chrome stands out.

The first chapter in the journey with Chrome is how to install Google Chrome, which I've described above. Not to overlook it here though, Chrome is fast and easy to install and does not force any third-party toolbars or unsolicited malware protection. Secondly, the speed to use and speed of delivery from

When using Chrome, opening the browser is normally achieved within a second on an optimally functioning computer and you can begin your search instantly from the top address bar or the search bar in center of the default opening tab. Lastly, the end user interaction chrome offers. If you sign in with a free and easy to make Google account (gmail.com) you can take advantages of all the Chrome add-ons, extra products and browser customisability so you can truly make your install of Chrome, your own.

This is all achieved from the account tab located in the top right of the browser once you're installed and signed in.

Along with all the above Chrome has installers that supports Windows 10, 8.1, 8 and Windows 7.

They also support MAC OS X 10.9 or later and one of the providers that support mobile and tablet operating systems on Android.

Disadvantages Of Google Chrome

In terms of disadvantages there aren't many that Google Chrome can be pulled up on but the few that can be mentioned are highlighted below.

Highly demanding on PC RAM Memory. A PC has memory installed it uses to process applications and handles the demand from software when it needs to perform an action called RAM memory.

Generally, this won't be an issue for a modern PC but it is worth mentioning Chrome may require more RAM resources than some other browser providers.

Chrome closes all tabs when selecting the close application cross in the top right. Most browsers nowadays like Microsoft's latest Edge browser present a warning when closing the browser completely if there is more than one tab open, something like the warning illustrated below: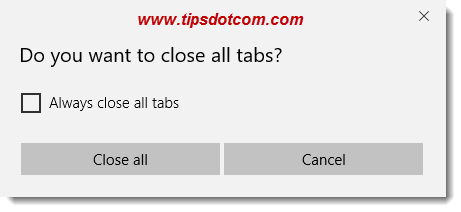 ---
Chrome doesn't offer this warning and will close all open tabs in the browser window without warning. It's a small disadvantage but having been caught by it myself it can be frustrating at times.
Conclusion: With this article on how to install Google Chrome I've tried to provide some insights in Google's popular browser, along with a few characteristics of the program.
Please feel free to enter comments below, I'd appreciate it, thanks.

---
If you've enjoyed this article or found it useful, I'd appreciate it if you'd let me know by clicking the Like (or Share) button below. Thank you!

---