Google Recommends Using Chrome
The message that "Google recommends using Chrome" near the top right corner of the screen seems to cause some uncertainty for quite a lot of Windows users. This is simply Google trying to convince you to use their Chrome browser when you go on the internet. The way the message is worded may have you thinking that you are missing out on something, but that's usually not the case. Don't worry if you're not entirely sure what to do with it because in what follows I will explain everything you need to know about using Chrome.
The main takeaway is that you can safely add Google Chrome to your computer because it will coexist with other browsers like Microsoft Edge on the same PC. The only problem with that is that the message that "Google recommends using Chrome" can appear on your screen, even if Google Chrome is already installed on your system. Luckily this is easy to find out and furthermore you can't break anything by agreeing to switch to Chrome. But before we get into that, let's start at the beginning and take a look at the message in detail.

Google Recommends Using Chrome - What it Looks Like

Below is an image of the message you'll see when you're trying to perform a search on Google with Microsoft's built-in Edge browser.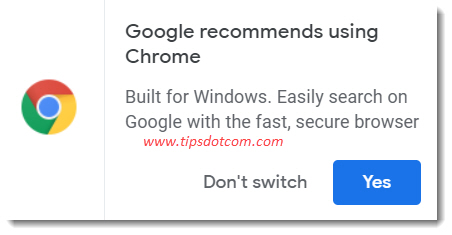 ---
As you can see, besides the message that "Google recommends using Chrome", it also says "Built for Windows. Easily search on Google with the fast, secure browser". Then you have two options: "Don't switch" and "Yes".

The fact that it says "fast and secure browser" may have some people believing that what they are currently doing is not fast and / or not secure. If you're using Microsoft's built-in Edge browser you don't have to worry about that because Edge has come a long way and performs pretty well in both these departments. Moreover, Microsoft Edge is built on Chromium, the very project that Google Chrome is built with so under the hood there are a lot of similarities.

But is Google Chrome Better and Should you Start Using it?

Google Chrome simply is Google's browser, a competitor to Microsoft if you will. Whenever you're searching on Google, the search engine can detect that you're using another browser than Chrome, which may trigger the message that Google recommends using Chrome. Whether or not Google Chrome is better than Microsoft Edge is a matter that I won't go into here, but what I can say is that some of Google's services will give you a better experience when using Chrome. Especially if you're using the more advanced features in Google Drive or Google Docs this may be the case. For instance, voice typing will only work if you're using Chrome. That being said, as long as you're merely doing a few searches on Google and not using any fancy Google features, you'll be just fine using any browser.

On the other hand, it doesn't hurt to install Chrome on your computer because it will not interfere with Microsoft Edge and it does give you another option to explore the web. And if you do have a Google account (which you do if you have a Gmail email account), I would recommend using Chrome for it.

How to Start Using Chrome

If you feel like giving it a try, you can just simply click "Yes" in the "Google recommends using Chrome" message.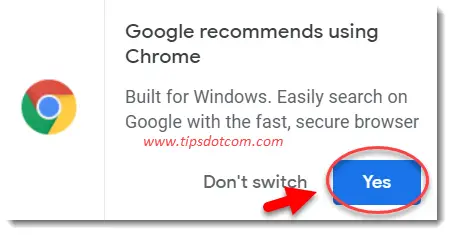 ---
Now you will go to the Google Chrome download page and if you are indeed using Microsoft's built-in browser Edge, you will now see a message that Microsoft Edge runs on the same technology as Chrome. I mentioned earlier that Edge is indeed based upon the Chromium project, so here we see that in effect.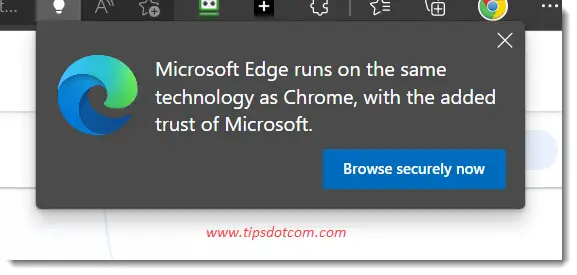 ---
The reason why this message appears now is of course because Microsoft doesn't want to see you switch to another browser (Chrome) and they try to reassure you that it's ok to continue using Edge. As mentioned before, nothing wrong with having two browsers on your computer so you can compare.

So look for the "download Chrome" button on the page and also clear the checkbox next to the text "Help make Google Chrome better by automatically sending usage statistics and crash reports to Google".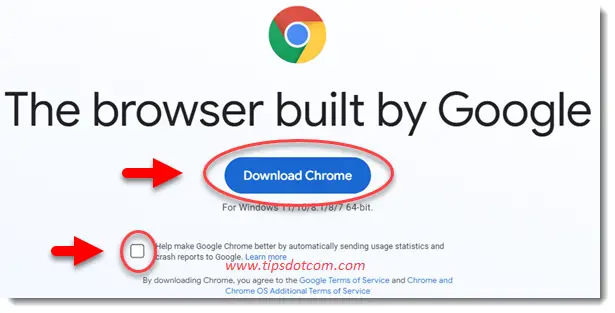 ---
You'll now see a screen that says "Thanks for downloading! Just a few steps left" and your download should complete momentarily.

At the time of writing this article, Microsoft went as far as blocking Google Chrome's download and even mentioning that it could harm the computer. So if it seems as if nothing is happening in this step, click the download button near the top right corner of your Edge window and check if there's a warning about the downloaded Chrome setup file.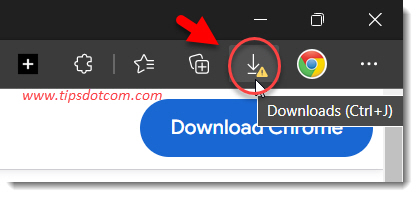 ---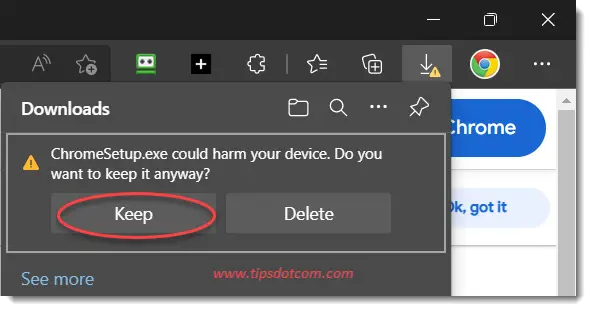 If there is, click the "Keep" button to proceed.
Next, click the "Open file" link to start the installation for Google Chrome.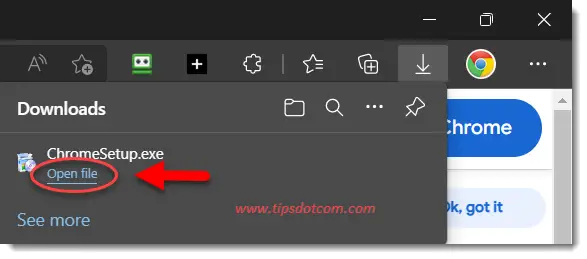 ---
Now, if Windows wants to know whether you want to allow the setup program to make changes to your PC, click yes.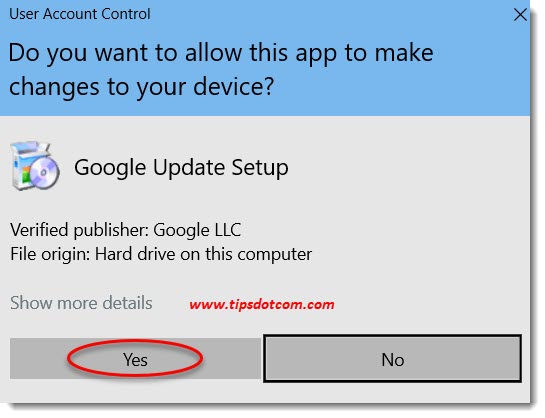 ---
The installation of Google Chrome will proceed and in a few moments you will have Chrome installed on your computer. You will then have the opportunity to get started using Chrome.


---
I have another article which describes how to get started with Google Chrome more in detail, so feel free to go there for follow-up actions.

With this article about the message that says that "Google recommends using Chrome" I wanted to clarify why this message appears in your browser window and also the steps you can take to follow that recommendation. The messages you get as a result of the tug of war between different browsers can make you feel like you're missing out on something and the fact that Microsoft even marks its competitor browser download as something that "may harm your device" says a lot about the lengths these companies go through to win you over for their browser. I believe it should be up to you to decide which browser you want to use and we all might be better off without annoying messages that try to persuade us into using something else than what we are used to.

---
If you've enjoyed this article or found it useful, I'd appreciate it if you'd let me know by clicking the Like (or Share) button below. Thank you!

---