Great Windows 10 Free Antivirus Programs
Is it still ok to go with Windows 10 free antivirus programs or do you need to fork out some $$ for professional protection? That's the question I'd like to address today. You are invited to share your experiences or opinions in the commenting section at the bottom of this page. Antivirus software for Windows has always been in the center of heavy debate between computer experts who speak from experience. But what is your best bet when it comes to protecting your digital life?
But before we get to that, let's first take a look at a few Windows 10 free antivirus programs and where to get them.

Windows 10 Free Antivirus Programs - Avira
One of my personal favorites today is Avira antivirus. You can download it for free from the Avira website. One of the reasons I like Avira is because it is rated one of the highest in the AV-test.org antivirus report (I have written about this in a previous computer tips and tricks article about Windows antivirus protection) for both protection level and performance. On top of that Avira also gets the highest score for usability. 
In a bit, I'll come back to a couple more reasons why I personally like Avira Windows 10 free antivirus, but let me walk you through the installation steps first.
Now please allow me to mention that you should always check that no other antivirus program is already installed on your computer, because it is never a good idea to have more than one antivirus program installed at the same time.
After you have downloaded the Avira antivirus setup file via the link mentioned above, navigate to the downloaded file, then right-click on it and select "Run as administrator".


---
If the Windows user account control screen comes up, click yes to continue.

---
Next, the Avira installation wizard will show its welcome screen where you click "Accept and install" to go on with the installation.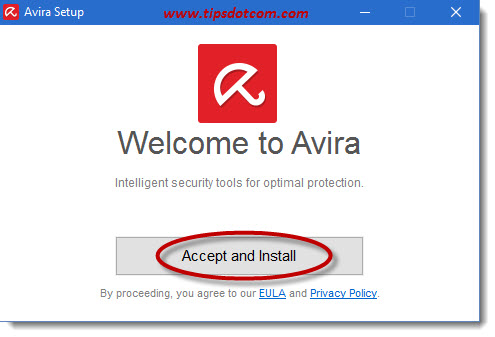 ---
Now the Avira Windows 10 free antivirus installation wizard will display its "Preparing installation screen" for a little while ...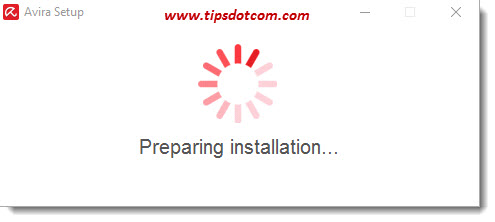 ---
... and in the bottom right corner of your screen (near the system clock) you may see a notification that the setup wizard is downloading a few more required files to proceed with the installation.


---
Next, the setup wizard will show you a progress screen where you'll notice a couple of things and you need to pay a little attention here or you'll end up with a bunch of extra tools that you may not need at this point.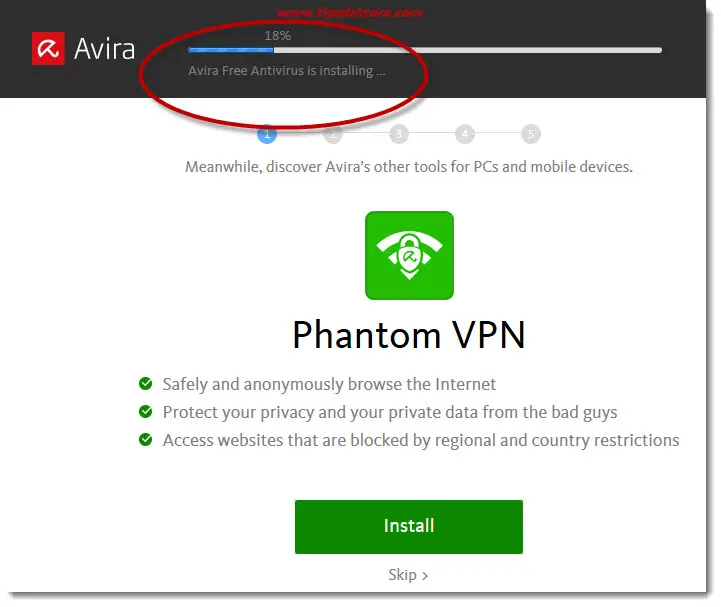 ---
As you can see in the image above, the big green button that says "Install" is hard to miss, but YOU DO NOT NEED TO CLICK THIS BUTTON (sorry for shouting).
If you look a little closer, you'll notice that this "Install" button will install "Phantom VPN", which allows you to surf the internet anonymously, but that is not what we were trying to accomplish here. We were looking for a Windows 10 free antivirus program and I suggest that we keep it simple and stick with the original plan. We can always come back later if we want to play with other Avira tools.
So again, don't click the "Install" button in the screen just above and notice how at the top of that screen there is a progress indicator with the words "Avira free antivirus is installing" and a percentage.
If wait this out, the screen will finally tell you that "Avira free antivirus is installed (100%)" and you can now safely click the "X" in the top right corner of the screen to close the installer without installing any of the additional Avira tools.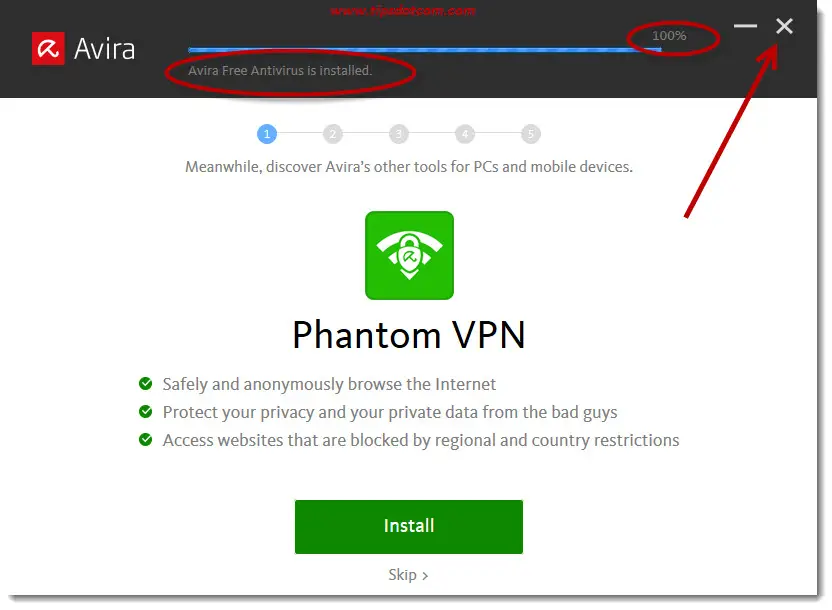 ---
You'll find proof of the Windows 10 free antivirus program on your computer in the little red umbrella icon that now appears in the bottom right corner of your screen, near the clock.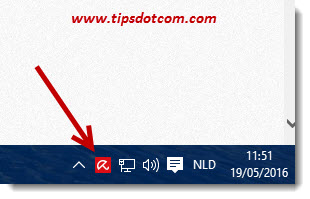 ---
That's Avira's status icon sitting there and you'll notice that it will try and get your attention from time to time by showing news and updates of the product. You can safely ignore those and your system will automatically be protected from viruses from now on.
Free Antivirus Protection VS Paid
The debate about free versus paid antivirus programs is fueled with strong opinions in both camps, and many misconceptions exist. Personally I believe that, certainly for home and private use, Windows 10 free antivirus programs such as Avira will work perfectly well.
Companies like Avira, who offer free versions of their antivirus software for non-commercial use at home, also sell paid versions of their products. What is the difference then? Well for starters you'll get support (often via e-mail) if you're a paying customer and experiencing trouble with your antivirus software. Other advantages of paid versions versus free include more frequent or speedier updates of the virus databases (but don't worry, the free versions still offer up to date protection).
Another reason why I like Avira as a reliable Windows 10 free antivirus program is because I personally had multiple good experiences with it. During one scenario I was troubleshooting the computer of a client, which was experiencing random lockups and "program is not responding" situations. After I had done a complete health-checkup of the system, installed all possible operating system updates and performed a driver actualization for every bit of hardware in the system, the #@$£ thing still had lockup issues.
I had noticed that the computer was running a paid (not free) version of Norton antivirus and a complete virus scan of the entire system had resulted in zero results, so all seemed well.
In a final act of despair, I decided to remove Norton antivirus and install Avira Windows 10 free antivirus instead. To my surprise Avira promptly found two (admittedly: minor) types of malware on the computer which were missed by Norton. And best of all: the mysterious lockups were completely gone ever since Norton antivirus got uninstalled from the system.
Please note that this is NOT to say that Norton antivirus is bad. Every computer is different. Different pieces of hardware, different chipsets, different software installed. All I'm saying is that in this particular situation the system behaved stable again after uninstalling Norton, which probably was interfering with another piece of software or driver on the computer.

---
If you've enjoyed this article or found it useful, I'd appreciate it if you'd let me know by clicking the Like (or Share) button below. Thank you!

---