Windows 10 Auto Login
With the Windows 10 auto login feature Microsoft has given computer users another option to decrease the waiting time when starting up their computer. Too bad that so few people know about this option. With this article I would like to bring the auto login feature to your attention so you can make an informed decision whether or not this is something you want to use.
Admittedly, entering your password when starting your computer doesn't take very long, but it's something you need to do each and every time you power on your pc. Except you don't.
Another plus besides not having to enter your password at startup is that you don't have to wait two times before your pc is ready for you to start working. Life's too short to spend waiting time in front of your pc. That's why a lot of people press the power button on their pc, then go and do something else (get a cup of coffee, make a phone call, ...) to allow the darn thing enough time to get ready and then take place in front of their computer to get started.
The problem with that is that the pc then sits there with the logon screen where you have to enter your password to log in, rather than being ready for you to start your work ...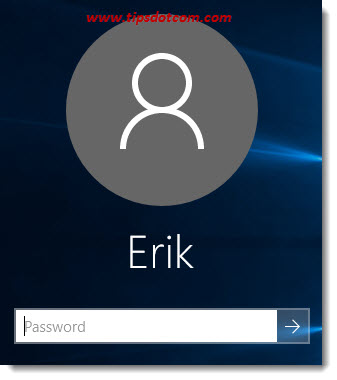 ---
You enter your password and then another series of startup processes take place. The circling dots are supposed to tell you that soon everything will be ready for you to get started.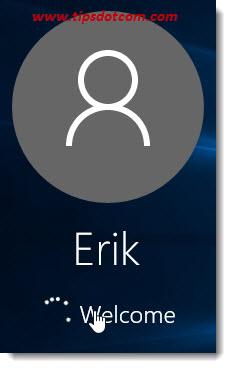 ---
That's a second waiting period you have to go through before you can get to work and getting more coffee may just not be an option yet at that point (unless you are an extremely voracious coffee drinker).
There must be a better way of organizing this!
If you're interested in improving your efficiency or if you don't see the point in having to enter your password each time you start your computer (this may not be the best idea if you're sharing your computer with others and you don't want them to be able to access your personal stuff) then there's a better way.
The Windows 10 Auto Login Feature
The Windows 10 auto login feature allows you to configure your computer in a way that you don't have to enter your password during startup. As mentioned above, this may not be suitable for you if you're sharing your computer with other people, but in many cases auto login can decrease computer waiting time.
In order to configure Windows 10 auto login, press the Windows logo button on your keyboard and the letter "r" simultaneously.


---
This will open up the Windows 10 "run" command box as illustrated in this image.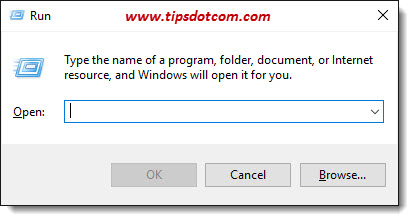 ---
In the box, type "netplwiz" (without the quotes) and press ENTER or click the ok button.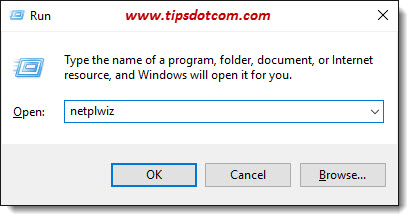 ---
Now you'll see the "User accounts" window, where Windows 10 shows the list of user accounts that are created on your computer.
Click to clear the checkbox next to "Users must enter a username and password to use this computer" and then click ok.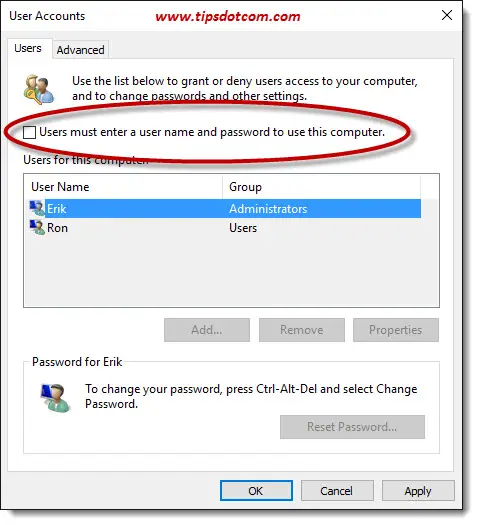 ---
Now Windows 10 will show you the "Automatically sign in" box, where you have to enter the name and password (and confirm the password) of the user that you want to configure for the Windows 10 auto login setting.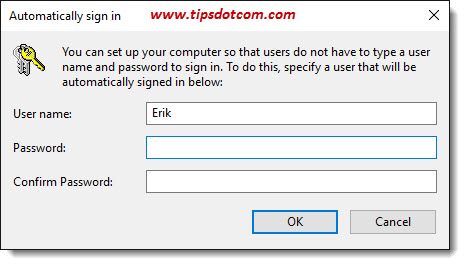 ---
Click the ok button to confirm and from now on your computer is set to automatically log in to your account at startup.
The next time you start your computer, you'll notice that it will start through to the desktop of your user account without you having to enter your password.

Logging In With Other User Accounts
Does this mean that others users can no longer log in to the computer? No, but it will become a little more complicated for them.
When powering up your computer you will be automatically logged in with the account that was chosen for the Windows 10 auto login feature. If another user wants to log in to their account, they have to click the Windows 10 start button in the bottom left corner and then either click sign out in the menu or click the account they want to log in to.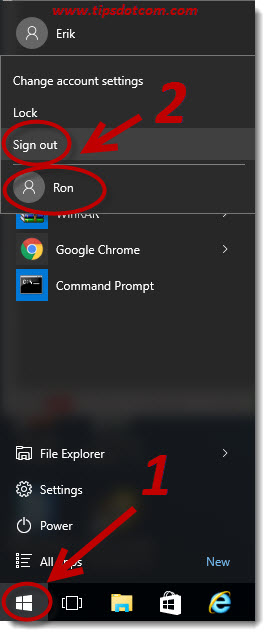 ---
The latter option will keep your user session active in the background, along with any programs and documents you have open in your session. You can switch back and forth between different user sessions like this, but keep in mind that this takes up more system resources (memory) and may slow down your computer.
In conclusion I might say that the Windows 10 auto login feature is probably not for everyone, but if your computer is a desktop pc that sits in your home where you don't have to worry about people invading each other's privacy, then this might be one of those little computer tips and tricks worth considering.
Please feel free to leave a comment in the section below, I'd appreciate it thanks!

---
If you've enjoyed this article or found it useful, I'd appreciate it if you'd let me know by clicking the Like (or Share) button below. Thank you!

---