VMware Popups Are Blank
I've been noticing that my VMware popups are blank whenever there are popups in Google Chrome in my virtual machines. I have tried updating the VMware tools and also getting the latest Windows updates in the virtual machine, but none of that helped. After some searching I was able to find a workaround so I decided to write about that so you can skip the searching.

I was working with VMware Workstation 15 Pro, version 15.5.0, build 14665864, but I believe that other versions can be affected as well.

The blank popups mainly appeared in Google Chrome, but I've seen a couple of them with the new Microsoft Edge as well (not sure about this, but this could make sense as this is also a Chromium-based browser).

If you've also noticed that your VMware popups are blank, you will probably agree that this can be very annoying, because you are unable to see any buttons in the popups and thus have no idea where to click in order to interact with them.
The image below shows one of the instances where my VMware popups are blank, even hiding part of the "Chrome Remote Desktop" text in the screen behind the popup. The area marked in the red square is where the popup appears and if you look very closely you'll notice that inside this red area, there a very faint horizontal line of something but other than that, there's only white space.

---
Anyways, let's get to the workaround which has worked for me.

If Your VMware Popups Are Blank - What You Can do

If your VMware popups are blank as well, the first thing you can do is check whether or not you have the hardware acceleration setting enabled in Google Chrome (in your VMware guest operating system, that is). I have found that, as soon as I disabled this setting and restarted Chrome, all popups are displayed correctly.

To disable the hardware acceleration setting in Chrome, click the settings icon near the top right corner of your Chrome window and select settings.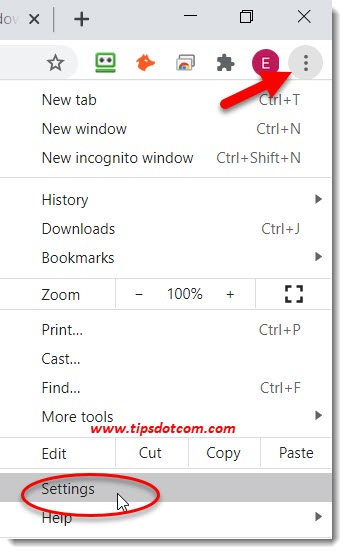 ---
Then, in your Google Chrome settings screen, type "hardware acceleration" in the search box and look for the correct setting to appear in the search results (indicated with a yellow highlight in the image below).


---
Then, make sure to slide the according settings switch to the "off" position and click the "Relaunch" button to restart your Google Chrome browser with the new setting in effect.

That's basically it, this is the workaround you can use if your VMware popups are blank. I realize that there may be situations where you would want to use hardware acceleration when available in your guest Chrome browser, but I believe that in most cases this workaround will come in handy anyway.

I'm not sure if this issue is fixed in more recent versions of VMware, but for me personally this quick fix has helped me quite well. If your VMware popups are blank at some point, I hope you can avoid the frustration of spending too much time looking for a fix with this article.

If it was helpful, please consider leaving a short comment below, I'd appreciate it, thank you!

---
If you've enjoyed this article or found it useful, I'd appreciate it if you'd let me know by clicking the Like (or Share) button below. Thank you!

---