Samsung Data Migration Error
I was informed by the Samsung Data Migration error window that my attempt to clone an existing hard drive to a new Samsung 860 EVO ssd drive had failed. The message appeared in a pop up window with "cmd.exe" and a "delayed write operation failed" text in the title bar. The message itself pointed out something about a file called bcdret.inf that couldn't be saved and that this could be caused by the device being removed or the medium being write-protected.
Not exactly overly helpful and also not the kind of message you want to see when you are trying to migrate your operating system to an ssd drive.

I have done many successful Windows migrations to ssd drives with Samsung Data Migration so the error came as a bit of a surprise this time.

Getting Past The Samsung Data Migration Error

This is a photo of the Samsung Data Migration error message I captured. I apologize for the lousy image quality and the message being in Dutch, but I didn't realize I was going to actually use this image in an article at the time when I took the photo.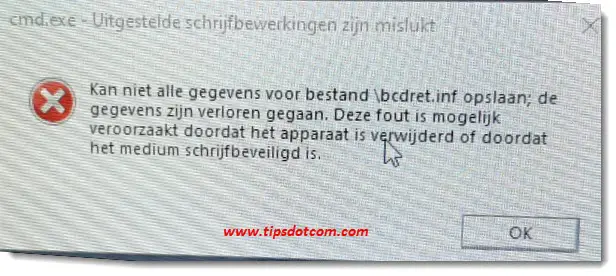 ---
Basically what it says comes down to this: delayed write operations failed - not all data of the file bcdret.inf can be saved; data is lost. This error could be caused because the device has been removed or because the medium is write protected.

I tried a couple of things (did a sfc /scannow in the Windows partition that I was trying to clone; also tried a chkdsk with repair option) all of which failed and resulted in the same error, which always occurred at 99% completion of the data migration.

To be honest, I didn't really find a solution for the actual problem, but I did manage to migrate the Windows 10 drive to the ssd drive after all, using a Samsung Data Migration free alternative. Actually, there are several free Samsung Data Migration alternatives if you know where to look, but there are a couple other ones as well, which aren't free.
For instance, when I started searching online for a solution for this Samsung Data Migration error, I found a link to AOMEI Partition Assistant, which claimed to be able to perform an ssd data migration with the free version of the product (on their official website, not an independent reviewer). However, when downloaded and installed the product and wanted to start the data migration to the ssd drive, I was informed that I needed to purchase the professional edition of the product.

Luckily there are several Samsung Data Migration free alternatives, which are really free and allow you to successfully clone your existing Windows installation to an ssd drive. They come with the additional benefit that you can clone a Windows installation to a non-Samsung ssd drive so you can use them for other ssd brands as well.

The one I ended up using is MiniTool ShadowMaker for ssd Migration and it was able to successfully clone the Windows 10 hard drive to the Samsung ssd drive, despite the Samsung Data Migration error when using Samsungs' own software.

I've previously used another MiniTool utility called MiniTool Partition Wizard (so not ShadowMaker) for partition-related tasks and was also pleasantly surprised by the countless advanced features that are included, even in the free version of the software. This time again, for this Windows migration to ssd, the free version of the MiniTool ShadowMaker performed the task flawlessly.

I haven't tried it in this particular case, but the MiniTool Partition Wizard mentioned just above, also has a "Migrate OS to SSD/HD" option, which allegedly should be able to help you migrate OSes to ssd drives.

As I've mentioned above in this article, I haven't searched further for a solution for the Samsung Data Migration error, but that's simply because with this alternative solution I was able to complete the task successfully. What's more, it will allow you to migrate a Windows partition to any brand of ssd drive that you prefer to use.

---
If you've enjoyed this article or found it useful, I'd appreciate it if you'd let me know by clicking the Like (or Share) button below. Thank you!

---