How To Recover Your Lost Windows 10 Password
If you need to recover your lost Windows 10 password you're going to come across recommendations like using a recovery disk or logging in with another administrator account. But what if you don't have a recovery disk and the only administrator account on the computer is the one with the unknown password?
In that case you're going to need a bootable cd or USB flash drive with a utility to recover your Windows 10 password.
In what I will describe next, you're going to find all the information and tools you need to recover your lost password with a utility called "Trinity Rescue Kit".
On this page I have prepared everything you need to make such a cd (you can also create a bootable USB flash drive if you prefer, but I chose to focus on the instructions for a cd here to keep things less complicated). I have included everything along with the precise, step by step instructions to unlock your Windows 10 administrator password.
Feel free to use the tools and information made available here and please do leave a short comment in the section at the bottom of the page if you succeeded (the page is pretty new so please don't be shy to be one of the firsts to leave a comment).

Utility To Unlock Your Lost Windows 10 Password
First you're going to need a bootable cd or USB that you can use to start your computer, access its Windows 10 user security database and reset the administrator password (or any user account for that matter).
If you fill out your name and e-mail address in the fields just below I promise to send you the link to where you can download the utility right away. My autoresponder will make sure that you'll have the link within minutes.
The download will come in the form of an ISO file named trinity-rescue-kit.3.4-build-396.iso
You're probably going to download the utility and prepare the bootable disk on another computer than the one with the lost windows 10 password (I'm going to assume that you're locked out of that computer).

Getting To Work With The Password Reset Utility
Press the Windows logo key + e to open File Explorer and navigate to where you've downloaded the file from my download link.


---
Make sure you have a blank cd recordable in your optical drive and then right-click the iso file and select "Burn disc image" in order to burn the image to your cd.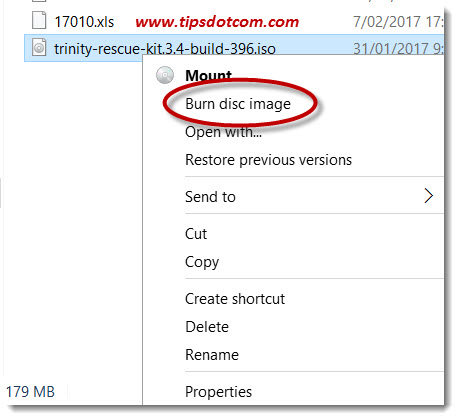 ---
Once the bootable cd is created you'll probably want to take it and boot your computer with the forgotten admin password with it.
First you'll want to make sure that your pc with the lost Windows 10 password is set to boot from cd (or USB if you're using a flash drive).
As soon as you boot the computer with the lost Windows 10 password, you'll see the Trinity Rescue Kit startup screen as shown in the image below. Please note the "Automatic boot in ... seconds" message below the startup options.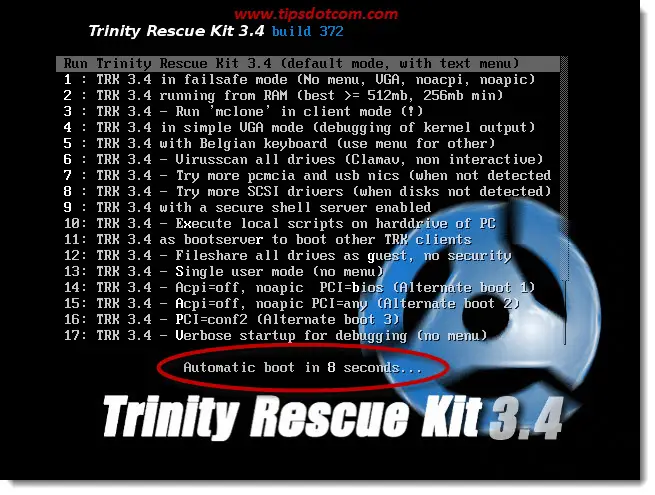 ---
This means that you don't have to do anything at this point, just let the computer start with the default options.
If you let that happen, this Trinity Rescue Kit easy menu will be the next screen that you see after a few seconds.
Use the arrow keys on your keyboard to navigate to the 4th option (Windows password resetting) and press ENTER.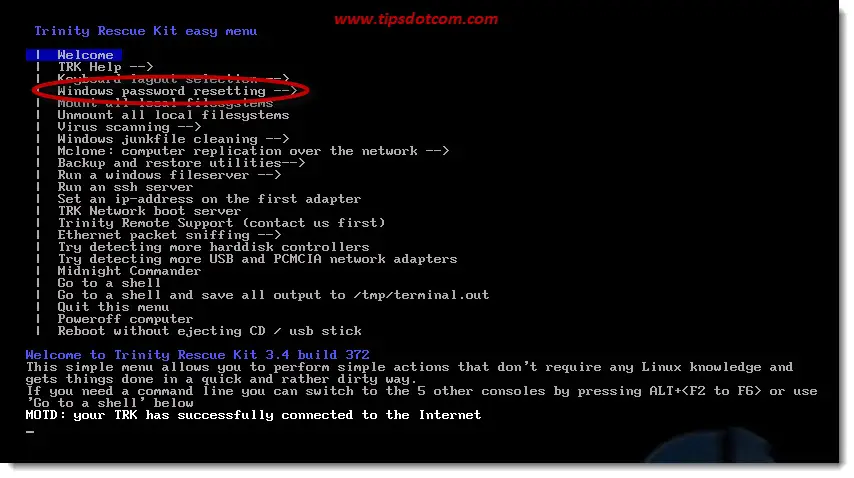 ---
In the next screen navigate to the 3rd option (Interactive winpass) and press ENTER.


---
Your Trinity rescue kit will respond with a bunch of text lines and the prompt to "make your choice". This is because the utility will look for all Windows installations that are present on your computer. In most cases you will only have one single instance or in other words one single installation of Windows.


---
Type the number 1 and press ENTER to continue clearing your lost Windows 10 password.


---
Your Trinity password recovery process will then come up with the next piece of interactivity, where it will offer you the choice to enter 1 to "Edit user data and passwords" and the Registry editor. Type "1" again (without quotes) and Press ENTER.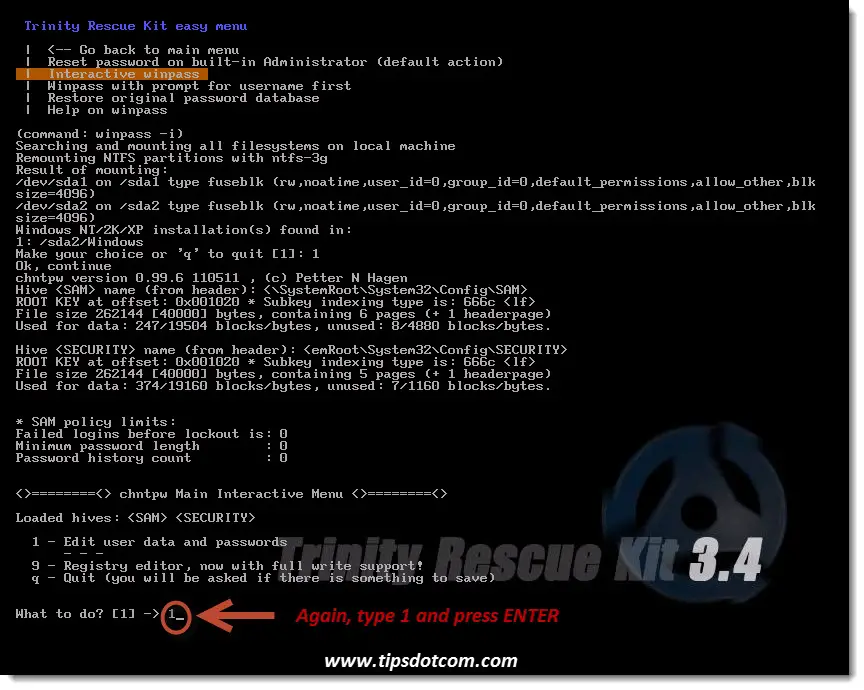 ---
Trinity will go looking in the user data and will come up with a list of all known user accounts in your Windows installation.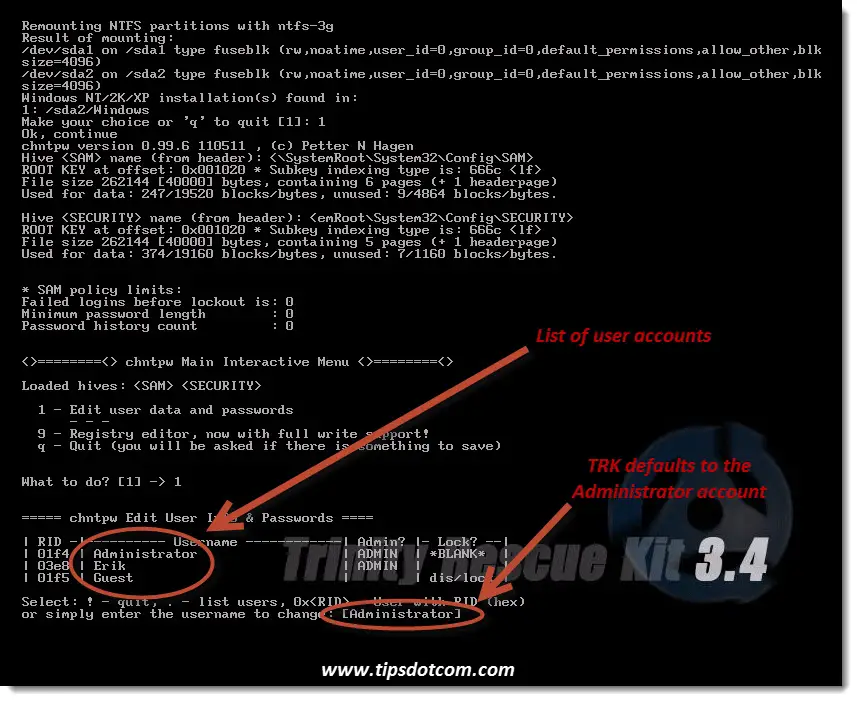 ---
By default the utility will suggest the default administrator account, but you can type the name of any other account in the list if you need to clear the password for another account.
To clear the administrator account password, simply press ENTER to continue.
In the next menu you'll have the choice to clear the password or set a new password (other options include promoting the user to an administrator account or unlock the account).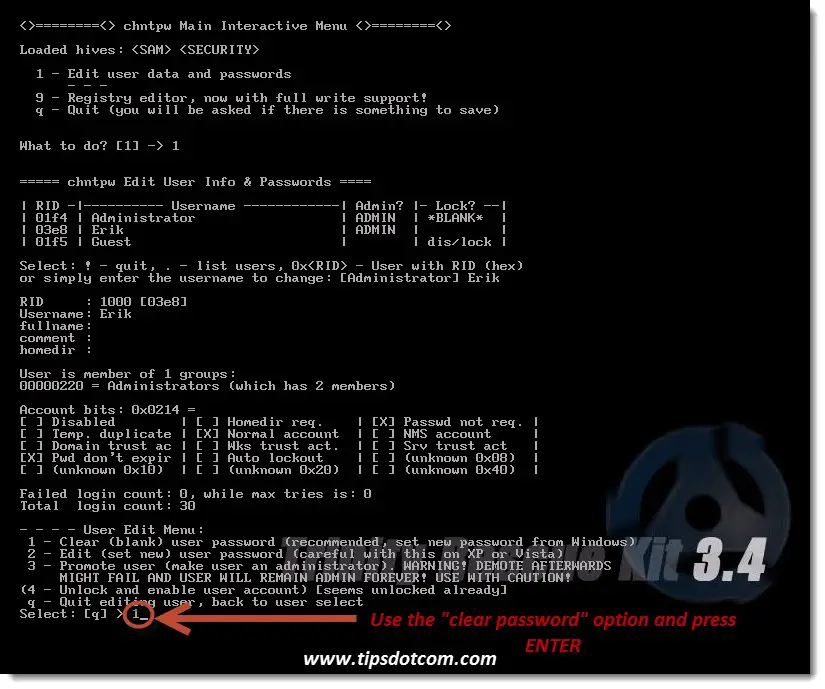 ---
It's recommended to clear the password rather than setting a new password from within the Trinity Rescue Kit environment.
Use the option to clear the password and look for the response that says "Password cleared!".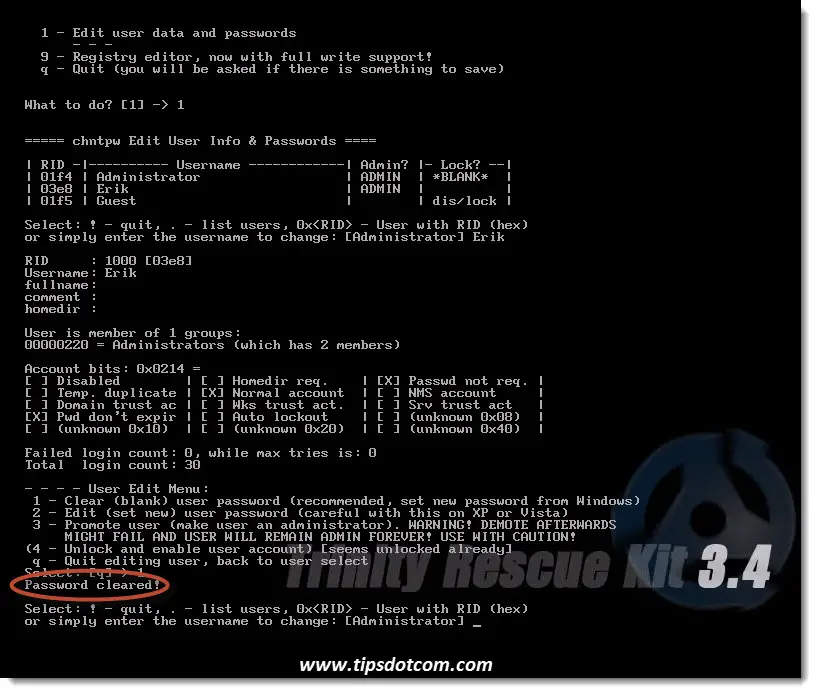 ---
At this point you're practically done clearing your lost Windows 10 password, all that remains to be done is follow the prompts of the remaining menu options onscreen to navigate back to the main menu and eventually select the option to shut down your computer.
Now remove your Trinity bootable cd from your cd drive and restart your computer. You should be able to login to the administrator account with a blank password.
Once logged in to the account, you can of course set a new password to protect your administrator account.
I hope this article was helpful in regaining access to your locked out account. Please feel free to leave a short comment in the section below about how everything worked out for you. I'd appreciate it a lot, thanks!

---
If you've enjoyed this article or found it useful, I'd appreciate it if you'd let me know by clicking the Like (or Share) button below. Thank you!

---