Google Backup And Sync Error 400 Invalid_Request
Dealing with a Google backup and sync error 400 invalid_request? I was too. It turned out that the solution was pretty simple, but I was surprised to learn that not a lot of answers to this problem were to be found on the interwebs. At the time when I was dealing with this error actually none at all. I decided to publish my solution in the hopes that it helps someone else. If my article helps you fix the error, please consider clicking the like button or leaving a short comment at the bottom of this page.
But before we get to that, let's take a closer look at the error we're dealing with. The error appeared right after I downloaded and installed Google backup and sync and launched the program to connect with my Google drive.

The Google Backup And Sync Error 400
I then entered my login credentials and immediately saw this error:
"Google Backup And Sync Error 400 Invalid_Request" (it also said google backup and sync error 400 response_type is required)

Please note that the image below is not an exact representation of the actual error because - believe it or not - once I fixed the error I wasn't able to reproduce the error.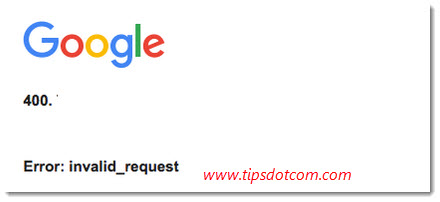 ---
Anyways, on the actual error screen the was a link at the bottom of that window that said "click here to sign in with your browser instead"

You may not expect much help from signing in with your browser instead and choose to ignore that link (I know I did), because you're trying to activate the Google backup and sync *app*, not some browser - web version.

But that turned out to be the fix for the Google backup and sync error 400 after all. After trying a couple of other things that didn't work (including restarting the computer) I decided to click the link to sign in with my web browser after all. Then a window popped up saying that the Google backup and sync app needs a bunch of app permissions in order to function properly. I clicked the button to allow access and wa-lah: problem solved. Ever since Google backup and sync is now running smoothly without any error 400 or invalid_request or even error 400 response_type error messages.

With so many people using Google backup and sync, I was surprised that apparently no previous cases of this error were documented online, which is - again - the reason I decided to publish this article.

If it was of help to you please like, share or comment, thank you!

---
If you've enjoyed this article or found it useful, I'd appreciate it if you'd let me know by clicking the Like (or Share) button below. Thank you!

---