Gmail Confidential Mode
There's a new functionality called Gmail confidential mode, available in Gmail accounts. It allows you to block people from forwarding your email, downloading attachments or even retain them from keeping your message in their inbox for a prolonged period of time. I'm not saying that this is downright Mission Impossible stuff, but you can now even send self-destructing messages, emails that will delete themselves after their expiration time.
This makes it possible for you to send an email that will automatically disappear from your correspondent's inbox once it's expiration time is passed.

Let's take a look at how this works.

Sending Emails With Gmail Confidential Mode

Gmail confidential mode has been added to Gmail accounts in the form of a new icon that appears when you start to compose a new message.
Next to the icons for text formatting, inserting attachments and others, you will find the icon that allows you to turn confidential mode on / off.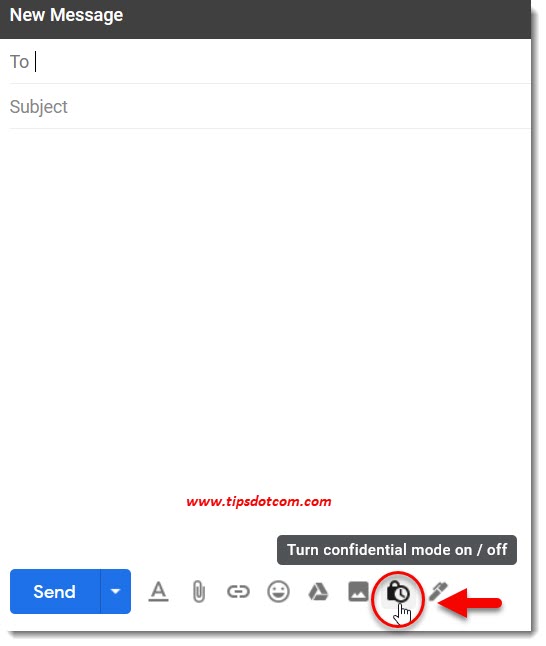 ---
If you click the Gmail confidential mode icon, Gmail will automatically open a pop up screen, informing you that recipients won't have the option to forward, copy, print or download this email.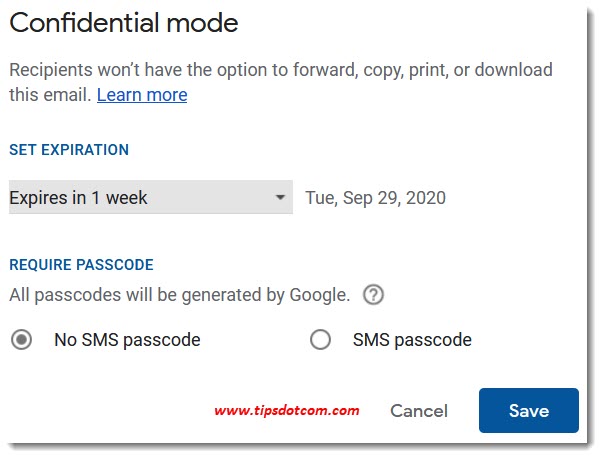 ---
In this screen you'll also be able to set an expiration date for your message, as well as the option to require a passcode for the email.

The expiration date setting comes with a dropdown list from which you can select expiration times from a day, a week, a month or even several years.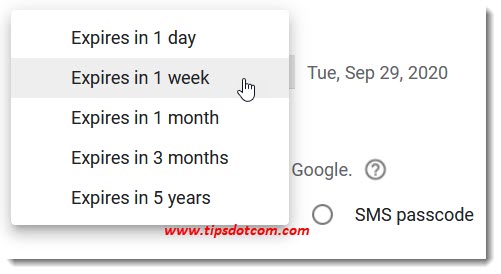 ---
Setting an expiration date means that your message will automatically disappear from your recipient's inbox at the expiration date.

Then, there's also the option to require an sms passcode. You will then be required to enter your recipient's phone number (in one of the the next screens) so that Gmail can send a passcode to this person's phone. Your recipient won't be able to view the contents of your message without this code, so if you are using this option, make sure to double-check the phone number.
Once you have chosen the expiration date and whether or not you want to use a passcode, click save in the Gmail confidential mode screen to continue composing your message.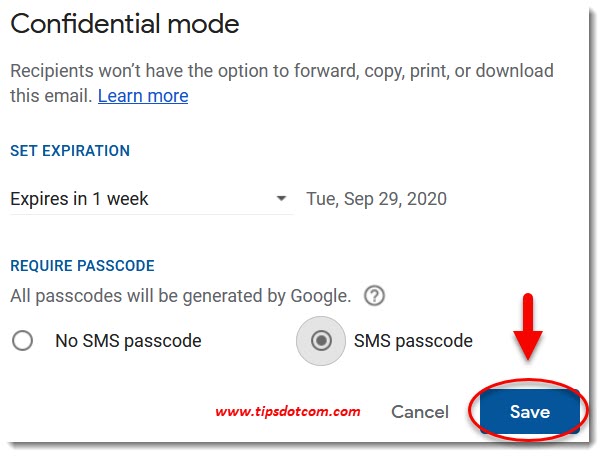 ---
You will then be ready to enter your recipient, a subject line and your message just like any other email message, but Gmail will display a notification that you are writing your message in Gmail confidential mode and that recipients won't have the options to forward, copy, print  or download this email.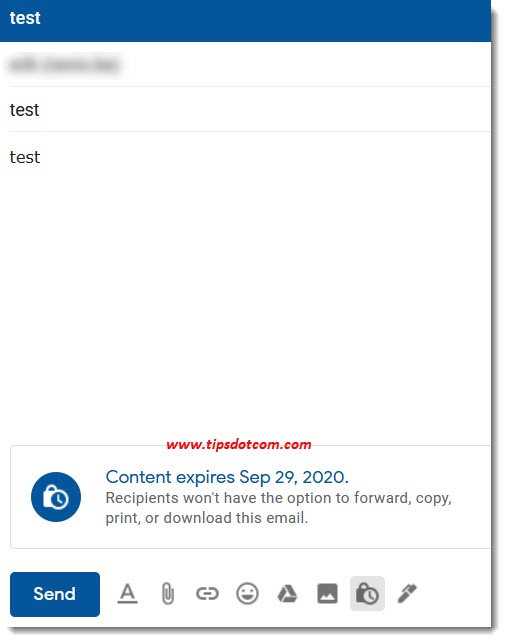 ---
It should be noted though that recipients are not prevented from taking screenshots or photos of your messages or attachments so please be aware of that.

When you are ready to send your email, click the send button. If you have selected the option to require a passcode, Gmail will now ask you to enter the phone numbers of your recipients, so they can verify their identity using the passcode.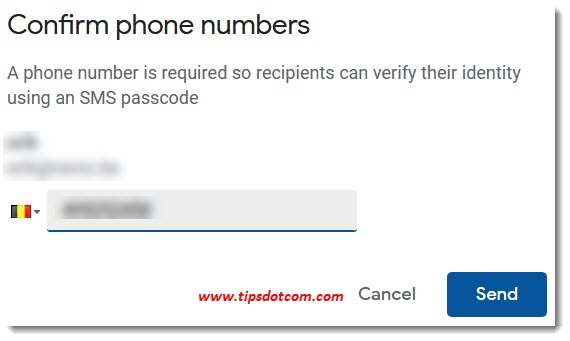 ---
Click send one more time to send your message.

You have now sent an email using Gmail confidential mode. Let's take a look at what happens at the recipient's end.

In the inbox of your recipient, there will be a message with a notification that "This message was sent in confidential mode". Your recipient will have to click to open the message.


---
If you requested a passcode in your Gmail confidential mode message, your recipient will then see a window asking to verify their identity. It will show the last 2 digits of the phone number you entered and a button to send the code.


---
Your recipient needs to click the button that says send passcode and will subsequently receive a text message on their phone with a one-time passcode that they can then use to "unlock" the mail message.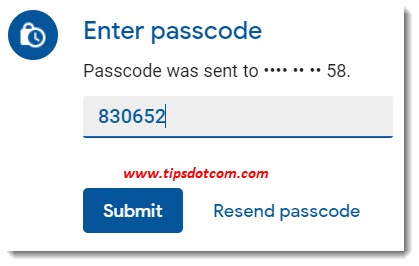 ---
After entering the code and clicking the submit button, your recipient will then be able to view the contents of your email, along with the notification that the message expires and that the message cannot be forwarded, copied, printed or downloaded.


---
That is in a nutshell how Gmail confidential email works. It allows you to send messages that will not be kept in your recipients inbox any longer than you want and it prevents your recipient from accidentally sharing sensitive information by blocking the option to forward the email (or print or download it).

---
If you've enjoyed this article or found it useful, I'd appreciate it if you'd let me know by clicking the Like (or Share) button below. Thank you!

---