Delete A Gmail Account And Clean Up
How to delete a Gmail account that you no longer wish to use? That was one of the questions that reached me shortly after I published my article on creating a free e-mail account with Google's Gmail. Before I get into the details of removing a Gmail account, please note that I am talking here about terminating the actual Gmail account and deleting the mails and contacts comprised in the account. If you're trying to remove a Gmail account from a list of used Gmail accounts in your browser, you can simply use the "Remove" button below the Gmail account(s) listed in your browser. 

As far as the article on creating a free e-mail account with Gmail is concerned, I had indeed not included any information about cleaning up or terminating a Gmail account in that article. Why?
To be honest, it never occurred to me that people would even want to actively close out a Gmail account when they no longer need it. It was always my belief that Gmail accounts that had been abandoned by their users would remain dormant, collecting dust in cyberspace until ... Yes, until WHEN?
A quick look in Google's documentation on Gmail shows us that Google reserves the right to delete the data in your account after 9 months of inactivity. I seriously doubt that this will be the fate of any account that reaches this threshold of inactivity but in theory it could happen.
I have Gmail accounts that I haven't looked at in years and when I logged in again to perform a quick check, everything was neatly sitting there ready to pick up where I left off. My guess is that Google won't actively track down inactive accounts to win a few gigabytes of storage back but the 9 months limit in the terms of service is probably a protection policy.
The question that remains is: what happens with Gmail accounts that have become obsolete? I believe that the overwhelming majority of them simply remains inactive but are never deleted.
But what if you want to actively delete a Gmail account?

Things To Consider Before Deleting
Of course there can be several reasons why you would want to delete a Gmail account. If your reason is that you don't remember your Gmail password and you want to eliminate the account since you can no longer access it anyway, then I have some bad news for you. In order to be able to delete a Gmail account, you need to know the account password.
Another thing to remember is that you can delete a Gmail account yet still keep your GOOGLE account. A Google account is not the same as a Gmail account. Your Google account gives you access to services such as Google Drive, Calendar, Google+, Photo's and more. It's possible to delete your Gmail account while maintaining access to other Google services.

How To Delete A Gmail Account
Head over to the Google account login page at
and enter your Google account login and password.
As soon as you are logged in, you will be welcomed in your main Google account screen, which will look similar to this:

---
In the right column (under account preferences), you'll notice the link that says "Delete your account or services". That's of course the link you're going to need if you've set out to delete a Gmail account.
Clicking the link will take you to the next screen, where Google makes a distinction between deleting products from your Google account and deleting the account itself along with the data that lives in it.
If you're interested in deleting your Gmail account but you want to keep using other services in your account (like for instance Google Drive), then click "Delete products", like indicated in the image below.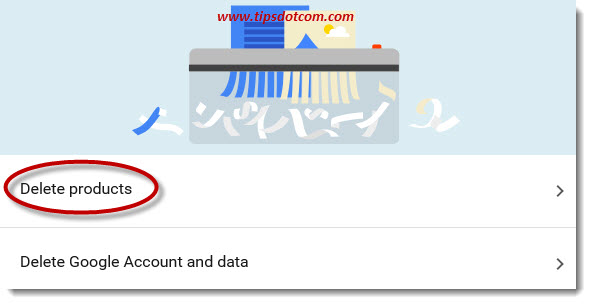 ---
Please note: if you click the "Delete products" link, you will have to re-enter your Gmail password in order to proceed.
This will take you to the next screen, where Google reminds you that a Google account can host many services and that some of these can be removed individually. You'll see a list of the services currently present in your Google account. In the image below you see Gmail and the little trash can icon next to it, which you can use to send your Gmail account and its content to the happy hunting grounds.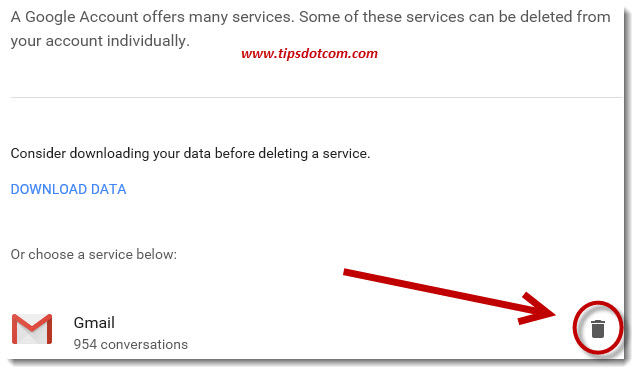 ---
Interesting observation: Google offers you the option to download your data to your local hard drive before eliminating your Gmail account (or any other Google service for that matter). To do so, click the "download data" link (also visible in the above screenshot).
This will allow you to keep a local copy of your Gmail data on your hard drive even when you delete your account.
Whether or not you make a local copy of your Gmail account before terminating it is - of course - entirely up to you, but basically this is all there is to wiping out your account. The trash icon may be a little hard to find (not in the basic Gmail settings where you may expect it) but once you know where to look it's really easy to delete a Gmail account.
I hope this article has was helpful and, as always, if you'd like to leave a short comment in the section below, I'd appreciate it, thanks!

---
If you've enjoyed this article or found it useful, I'd appreciate it if you'd let me know by clicking the Like (or Share) button below. Thank you!

---