Boomerang Gmail Digital Life Hack
The Boomerang Gmail add-on brings a couple of interesting and pretty useful features to your e-mail experience, such as the ability to schedule messages and show reminders. Whether you are following the productivity-enhancing philosophy of keeping a minimal inbox or you just want to tap in to the possibilities of deferred e-mail sending, you'll want to take a look at this Gmail add-on.
If you have a Gmail account you might want to consider using Google Chrome as your preferred browser for your e-mail activities, but currently there's also a version for Mozilla Firefox or Safari. Some other browsers like for instance Internet Explorer or Microsoft Edge are not supported at the time of this writing. I don't have any information about whether or not Boomerang versions for these browsers are planned for the near future.

Downloading And Installing The Boomerang Gmail Add-On
You can download the free Boomerang Gmail add-on directly from this link (the link will open in a new window), and installation should be a quickie.
After you click the download link, your browser will prompt you to install the Boomerang Gmail add-on. If you're using Mozilla Firefox, the prompt will look something like this: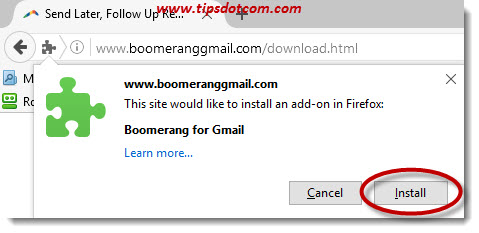 ---
Simply click the install button to proceed with the installation.
Seconds later you'll see a notification that Boomerang was installed in your browser.


---
Just for the sake of completeness, if you're using Google Chrome and want to download and install the Boomerang add-on, you'll need to click the big red "Install Boomerang" button on the Boomerang download page.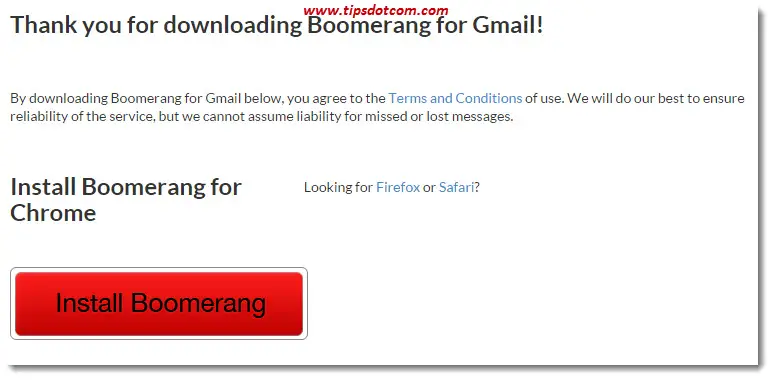 ---
Google Chrome will also prompt you to go ahead and add the extension, so click the button to proceed.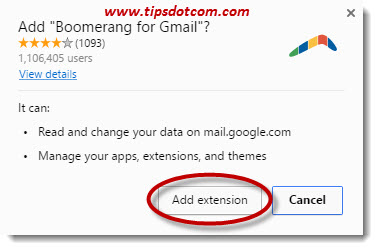 ---
Again, a few moments later you'll be notified that the extension has been added.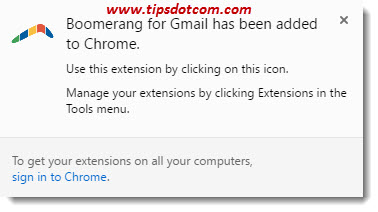 ---
A Closer Look At The Extra Features
If you log in to your Gmail account with the Boomerang Gmail add-on installed, you'll immediately notice a couple of new features.
For instance, when you're replying to a message, you'll find a "Send later" button right below the regular "Send" button.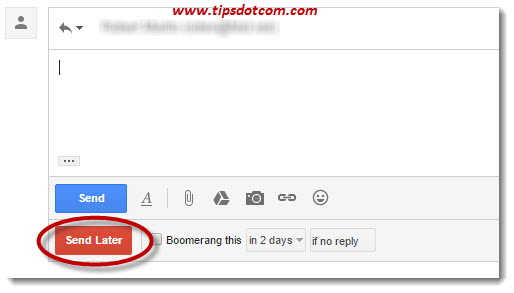 ---
You can use the "Send later" button um, well to send your message later and if you click it, you'll get a nice set of options to schedule your e-mail for sending at a later time.

---
You can even schedule a recurring message. And of course you are not limited to sending reply messages later but you can also schedule future e-mail when composing a new message. With this add-on you'll never have to log in later to hit "Send", you don't even need to have a network connection. Boomerang will automatically send your message at the time you choose.

Follow-Up Reminders
To remind yourself to check back on an e-mail, all you have to do is open the message and use the Boomerang button.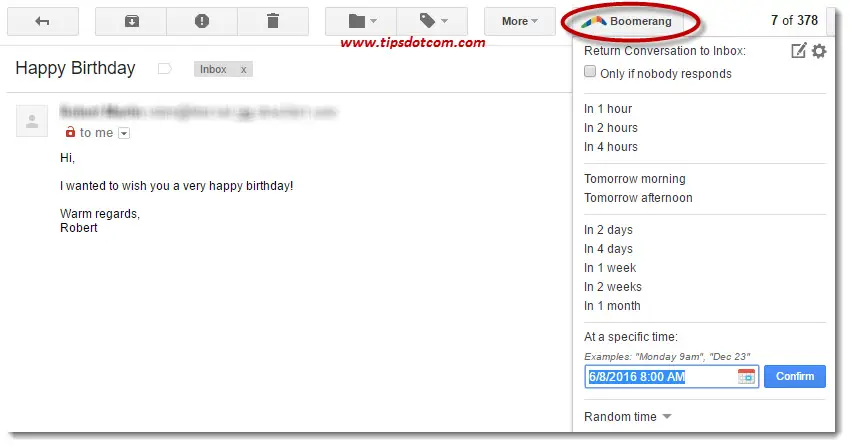 ---
When you Boomerang a message it will be removed from your inbox now and return to the top, marked as unread, exactly when you want to be reminded.
But Boomerang can automate things even more. Let's say for example that you receive an e-mail with an invoice which is due near the end of the month. You may not want to deal with that right away, but you don't want to forget it either.
If Boomerang detects a date in the message subject line, it will automatically come up with the option to remind you 1 day in advance (with a convenient drop-down option to schedule the reminder at another time).


---
Another great way of using Boomerang reminders is when you send someone an e-mail and you want to be reminded about it if they don't answer back within a certain time frame.
Simply check the box next to "Boomerang this" in ... days when you send the message and Boomerang will automatically remind you if your correspondent doesn't reply in time.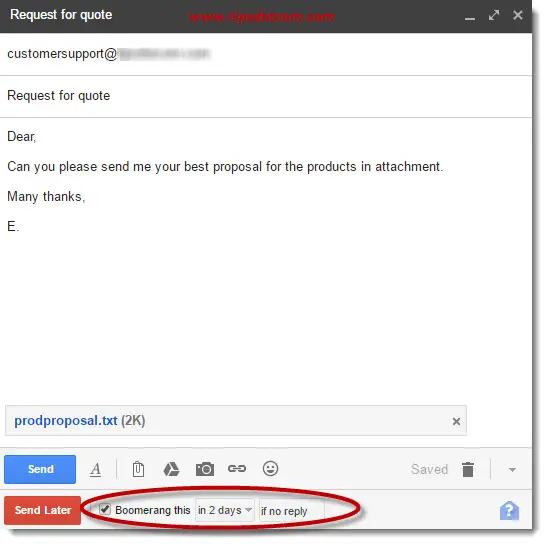 ---
Conclusion
The Boomerang Gmail add-on is a great help if you like to keep your inbox clean. There are quite a number of productivity enhancing methodologies out there that strive for inbox zero and the Boomerang Gmail add-on can certainly help you reduce the time spent in your inbox.
Feel free to leave a comment in the section below, I'd appreciate it thanks!

---
If you've enjoyed this article or found it useful, I'd appreciate it if you'd let me know by clicking the Like (or Share) button below. Thank you!

---